How To Make Vegan Kimchi
Unleash your inner fermentation guru with this vibrant and tangy kimchi recipe! Follow these simple steps to create a deliciously funky and flavorful Korean staple that'll jazz up any meal.
May 05, 2023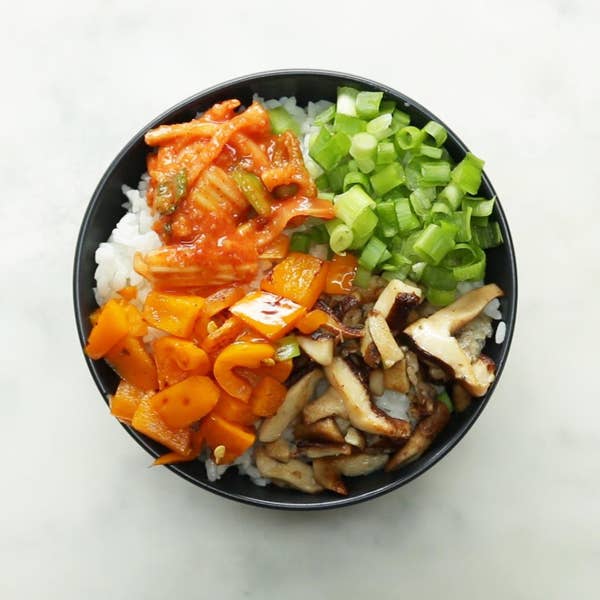 Ingredients
for 4 servings
2 lb green cabbage

(910 g)

, savoy or napa
½ cup coarse salt

(120 g)

4 green onions
1 ginger, 2-inch (5 cm) piece
6 cloves garlic
¼ cup daikon radish

(4 g)

½ cup white rice

(115 g)

¼ cup water

(60 mL)

, plus more as needed
2 tablespoons soy sauce
1 tablespoon vegan sugar
1 tablespoon gochugaru
Preparation
Cut the head of cabbage in half lengthwise and slice off the ends. Quarter lengthwise, then slice crosswise into 2-inch (5 cm) pieces.
Place the cabbage and salt in a large bowl. Using your hands, massage the salt into the cabbage until it starts to soften a bit. Cover with a kitchen towel and let stand for 1-2 hours. Rinse the cabbage thoroughly under cold water, then let drain in a colander.
Meanwhile, chop the green onions into 1-inch (2 cm) pieces.
Peel the ginger and garlic.
Cut the daikon radish into matchsticks.
Combine the rice, water, garlic, ginger, and soy sauce in a mason jar or medium bowl. Use an immersion blender or standing blender to make a smooth paste. Mix in the sugar and gochugaru, starting with 1 tablespoon for a mild flavor and up to 5 tablespoons to make it spicier.
Gently squeeze any remaining water from the cabbage and transfer to a large bowl, along with the green onions and daikon. Toss to combine.
Add the seasoning paste to the bowl. Wearing gloves if you'd like to protect your hands from stings, stains, and smells, gently massage the paste into the vegetables until they are thoroughly coated.
Pack the kimchi into a large jar, pressing down until the seasoning paste rises to cover the vegetables and leaving at least 1 inch (2 ½ cm) of space at the top. Seal the jar with the lid.
Eat the kimchi right away or, to ferment, let the jar stand in a dark place at room temperature for 2-14 days. You may see bubbles inside and liquid may seep out of the jar; to be safe, place a bowl or plate under the jar to catch any overflow. Check the kimchi once a day. When it reaches your desired flavor, transfer the jar to the refrigerator. Eat right away, or let sit for another week or 2 for the flavors to deepen.
Enjoy!