Hummingbird Cupcakes
September 14, 2020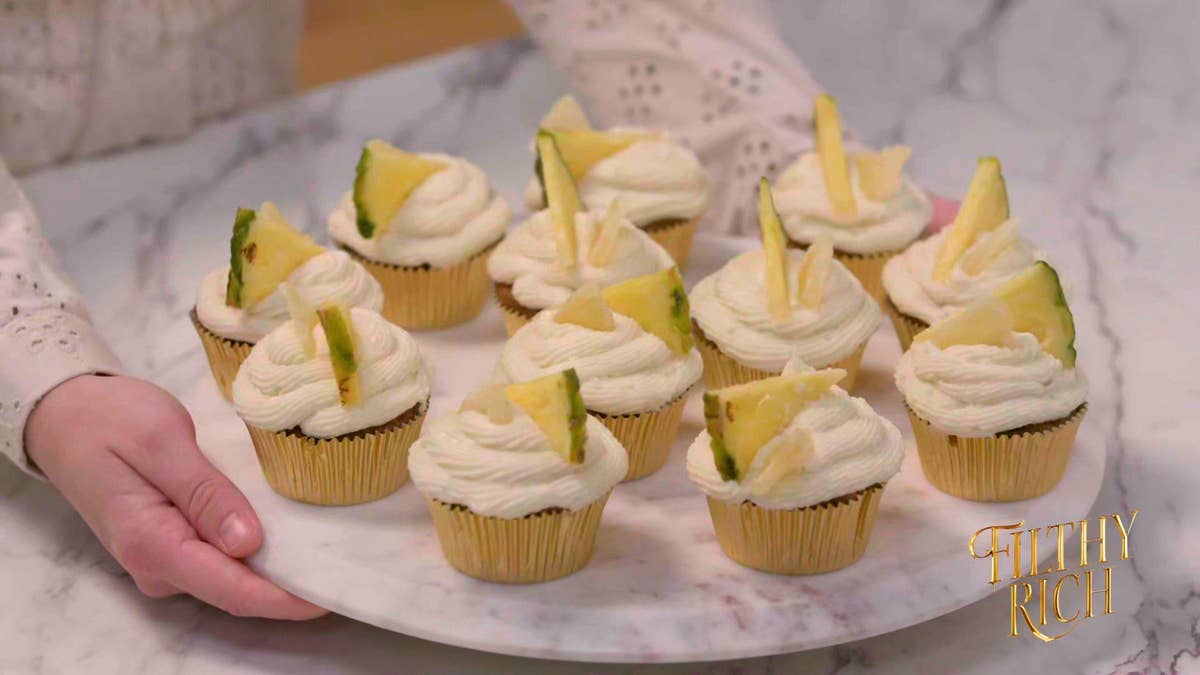 Ingredients
for 24 servings
Hummingbird Cupcakes
nonstick cooking spray, for greasing
3 cups all purpose flour

(375 g)

2 cups granulated sugar

(400 g)

1 teaspoon baking soda
1 teaspoon kosher salt
1 teaspoon ground cinnamon
4 ripe bananas, mashed
8 oz pineapple

(225 g)

, crushed with juice
1 ¼ cups vegetable oil

(300 mL)

3 large eggs, beaten
2 teaspoons vanilla extract
Cream Cheese Frosting
8 oz cream cheese

(225 g)

, room temperature
2 sticks unsalted butter, room temperrature
4 cups powdered sugar

(440 g)

2 tablespoons pineapple, crushed with juice
¼ teaspoon kosher salt
2 teaspoons vanilla extract
Garnish
24 pieces fresh pineapple, triangular slices with skin attached
24 pieces candied pineapple
Preparation
Make the hummingbird cupcakes: Preheat the oven to 350°F (180°C). Line 2 12-cup muffin tins with paper liners and grease with nonstick spray.
In a large bowl, whisk together the flour, granulated sugar, baking soda, salt, and cinnamon.
Add the mashed bananas, crushed pineapple, vegetable oil, eggs, and vanilla and stir with a wooden spoon to incorporate. The batter will be thick.
Using a spring-release ice cream scoop, divide the batter evenly between the prepared muffin cups.
Bake for 18–22 minutes, or until a toothpick inserted in the center of a cupcake comes out clean. Remove from the oven and let cool for at least 30 minutes before frosting.
Make the cream cheese frosting: In a large metal bowl, cream the cream cheese and butter with an electric hand mixer on high speed for 3–5 minutes, until fluffy and thick.
Reduce the mixer speed to low and add the powdered sugar, 1 cup at a time, until incorporated. Increase the mixer speed to high and whip until light and fluffy, about 3 minutes more.
Add the crushed pineapple, salt, and vanilla and whip for another 30 seconds, or until incorporated.
Transfer the frosting to a piping bag fitted with a star tip, then pipe onto the cooled cupcakes.
Garnish each cupcake with a slice of fresh and candied pineapple.
Enjoy!
Note: The temperature of the butter and cream cheese should not exceed 72°F (22°C) or the frosting may break.