Impossible™ Kofta & Veggie Kebabs
August 14, 2023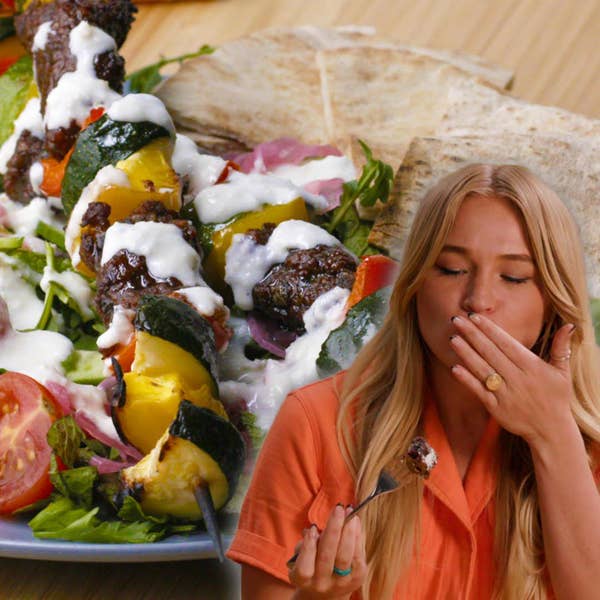 Ingredients
for 4 servings
1 Impossible™ Burger
2 teaspoons kosher salt, plus more to taste
2 teaspoons freshly ground black pepper, plus more to taste
2 teaspoons ground cumin
½ tablespoon paprika
½ tablespoon chili powder
½ tablespoon dried mint
½ tablespoon dried oregano
⅓ cup small yellow onion

(50 g)

, sauteed until translucent
1 medium yellow bell pepper
1 medium bell pepper
2 medium zucchinis
5 tablespoons olive oil, divided
Garlic Sauce
½ cup garlic

(65 g)

2 lemons, juiced
1 ½ teaspoons kosher salt
½ cup full fat greek yogurt

(120 mL)

2 tablespoons mayonnaise
For Serving
2 pita bread rounds
3 cups arugula

(300 g)

1 cup fresh flat-leaf parsley

(40 g)

1 cup fresh mint leaf

(40 g)

, roughly chopped
½ cup cherry tomato

(100 g)

, halved
1 cup cucumber

(150 g)

, halved lengthwise and thinly sliced into half-moons
½ cup red onion

(75 g)

, pickled
⅓ cup lemon juice

(80 mL)
This recipe isn't available to shop.
Unfortunately, not all our recipes can be shopped through Tasty.
Preparation
In a medium bowl, combine the Impossible™ Burger, salt, black pepper, cumin, paprika, chili powder, mint, oregano, and onion.
Cut the yellow and red peppers into ¾-inch pieces and the zucchini in half lengthwise, then into ¾-inch-thick moons.
Assemble the skewers: Thread 3 pieces of bell pepper and zucchini onto a skewer, leaving about 1½ inches of space at the base. Mold 2 tablespoons of the Impossible™ Burger mixture around the skewer about 1½ inches above the vegetables. Add 3 more pieces of vegetable, another portion of beef, and 3 more vegetables. Repeat to build the remaining kebabs (8 total). Place the kebabs on a plate and refrigerate for 1 hour.
Make the garlic sauce: In a food processor, combine the garlic, lemon juice, and salt. Pulse 5 times, until the garlic is minced. Add the yogurt and mayonnaise, and process until smooth. Refrigerate until ready to use.
Preheat the grill to 350°F (180°C).
Drizzle 3 tablespoons of olive oil all over the kebabs. Season the vegetables with salt.
Place the kebabs on the grill and cook for 5 minutes on each side, or until the "meat" is cooked through and the vegetables are tender. Remove from the grill.
Meanwhile, brush the remaining 2 tablespoons of olive oil over the pita bread. Grill for 45–60 seconds per side, or until lightly toasted. Remove from the grill and let cool slightly, then cut into triangles.
To serve, divide the arugula, parsley, mint, tomatoes, cucumber, and pickled red onions among 4 plates. Drizzle with the lemon juice. Place 2 kebabs on each plate and serve immediately with the garlic sauce and grilled pita bread alongside.
Enjoy!