Instant Pot Crème Brûlée
A classic dessert, crème brûlée is a hit with even the pickiest dessert lovers. Made with just 5 ingredients, this Instant Pot version turns out a perfectly set custard every time. The crème brûlées can be made ahead of your next gathering and chilled in the fridge. Caramelize the sugar on top just before serving for that signature crunch.
February 27, 2020
Prep Time
30 minutes
30 min
Cook Time
30 minutes
30 min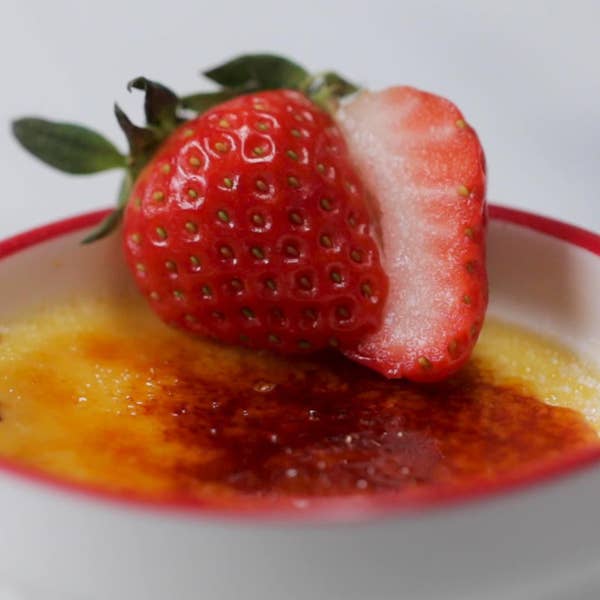 Prep Time
30 minutes
30 min
Cook Time
30 minutes
30 min
Ingredients
for 6 servings
7 large egg yolks
6 tablespoons granulated sugar, plus 6 teaspoons, divided
2 cups heavy cream

(480 mL)

1 ½ teaspoons vanilla extract
½ teaspoon kosher salt
1 cup water

(240 mL)

fresh berry, for garnish
Nutrition Info
Calories

426

Fat

41g

Carbs

12g

Fiber

4g

Sugar

12g

Protein

11g
Estimated values based on one serving size.
Preparation
In a medium bowl, whisk together the egg yolks and 6 tablespoons of sugar until well combined.
In a medium saucepan over medium-low heat, combine the heavy cream, vanilla, and salt. Warm to 165°F (75°C), whisking occasionally to prevent a film from forming on top. Remove the pot from the heat.
Temper the egg yolk mixture by pouring a small amount of the warmed cream mixture into the yolks and whisking to combine. Repeat with 3 more small additions, then mix in the remaining cream. Strain the mixture through a fine-mesh sieve into a large liquid measuring cup with a pour spout.
Pour the cream mixture into 6 1-ounce ramekins, filling each about ¾ of the way. Release any air bubbles on the surface by gently tapping with a spoon.
Cover each ramekin tightly with aluminum foil.
Pour the water into the Instant Pot, then set the ramekins inside. Pressure cook on low pressure for 13 minutes. Allow the pressure to release naturally for 15 minutes, then release the remaining pressure. Carefully transfer the ramekins from the Instant Pot to a wire rack to cool slightly, about 20 minutes.
Chill the crème brûlées uncovered in the refrigerator for at least 4 hours, or overnight.
When ready to serve, sprinkle 1 teaspoon of sugar evenly on top of each crème brûlée. Using a kitchen torch, brûlée the tops for about 1 minute each, or until sugar begins to bubble and turn dark golden brown. Let crème brûlée sit for about 5 minutes before serving.
Garnish with berries of choice, then serve.
Enjoy!