Instant Pot Cubano Sandwiches
June 08, 2022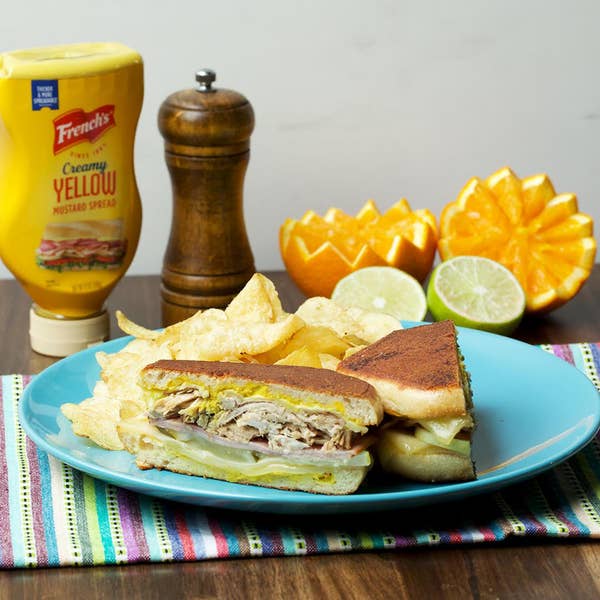 Ingredients
for 4 sandwiches
Pulled Pork
2 ½ teaspoons Mccormick® ground cumin
2 ½ teaspoons McCormick® Smoked Paprika
1 ½ teaspoons McCormick® Chipotle Powder
1 teaspoon McCormick® Garlic Powder
2 ½ teaspoons kosher salt, divided
1 teaspoon freshly ground black pepper
1 pork loin
2 tablespoons olive oil, divided
1 medium yellow onion, thinly sliced
3 limes, juiced
3 oranges, juiced
1 ½ cups chicken stock

(360 mL)

1 dried bay leaf
Sandwiches
4 ciabatta rolls, halved
12 tablespoons French's® Creamy Mustard
18 slices swiss cheese
12 slices deli ham
12 dill pickles, sandwich slices
4 tablespoons olive oil, or butter
potato chip, for serving
Preparation
Make the pulled pork: In a small bowl, mix together the cumin, smoked paprika, chipotle powder, garlic powder, 1½ teaspoons salt, and the black pepper.
Rub the spice mixture all over the pork loin.
Turn the Instant Pot on to the Sauté setting. When the pot is hot, add 1½ tablespoons of olive oil. Once the oil is shimmering, add the pork loin and sear on both sides until golden brown, about 6 minutes. Remove the pork from the pot and set aside.
Add the remaining ½ tablespoon of olive oil to the pot and the onion to the pot. Cook for about 3 minutes, until fragrant.
Add the lime juice, orange juice, chicken stock, and bay leaf, then return the seared pork to the pot. Secure the lid (make sure the valve is set to sealing) and cook on high pressure for 1 hour. Carefully turn the valve to venting and let the pressure release completely, about 15 minutes.
Remove the pork from the pot and shred. Transfer to a medium bowl with ⅓ cup of the cooking liquid and the remaining teaspoon of salt and toss to combine.
Assemble the sandwiches: Toast the ciabatta rolls in a toaster for about 3 minutes, or until the cut sides of the rolls are light golden brown.
Spread 1 tablespoon of French's® Creamy Mustard over the cut side of each ciabatta roll half, 2 tablespoons total per roll. Add 2 Swiss cheese slices to the top half of each roll and 1 Swiss cheese slice to the bottom halves. Pile the pulled pork generously on the bottom halves, then top each with 2 slices of ham and 2 pickle slices. Close the sandwiches and press down to compact.
Heat 1 tablespoon of olive oil in a small cast iron skillet over medium-low heat. Place a sandwich, upside down, in the skillet and place a sheet of aluminum foil on top, then weigh down with another small cast iron skillet. Toast for 1–2 minutes, or until the top is golden brown. Flip and press down again, then cook until the other side is toasted and the cheese has melted, 1–2 minutes more. Remove the sandwich from the pan and cut in half. Serve immediately with potato chips alongside. Repeat with the remaining sandwiches, adding more olive oil to the pan as needed.
Enjoy!