Jamaican Rum-Glazed BBQ Pig's Tail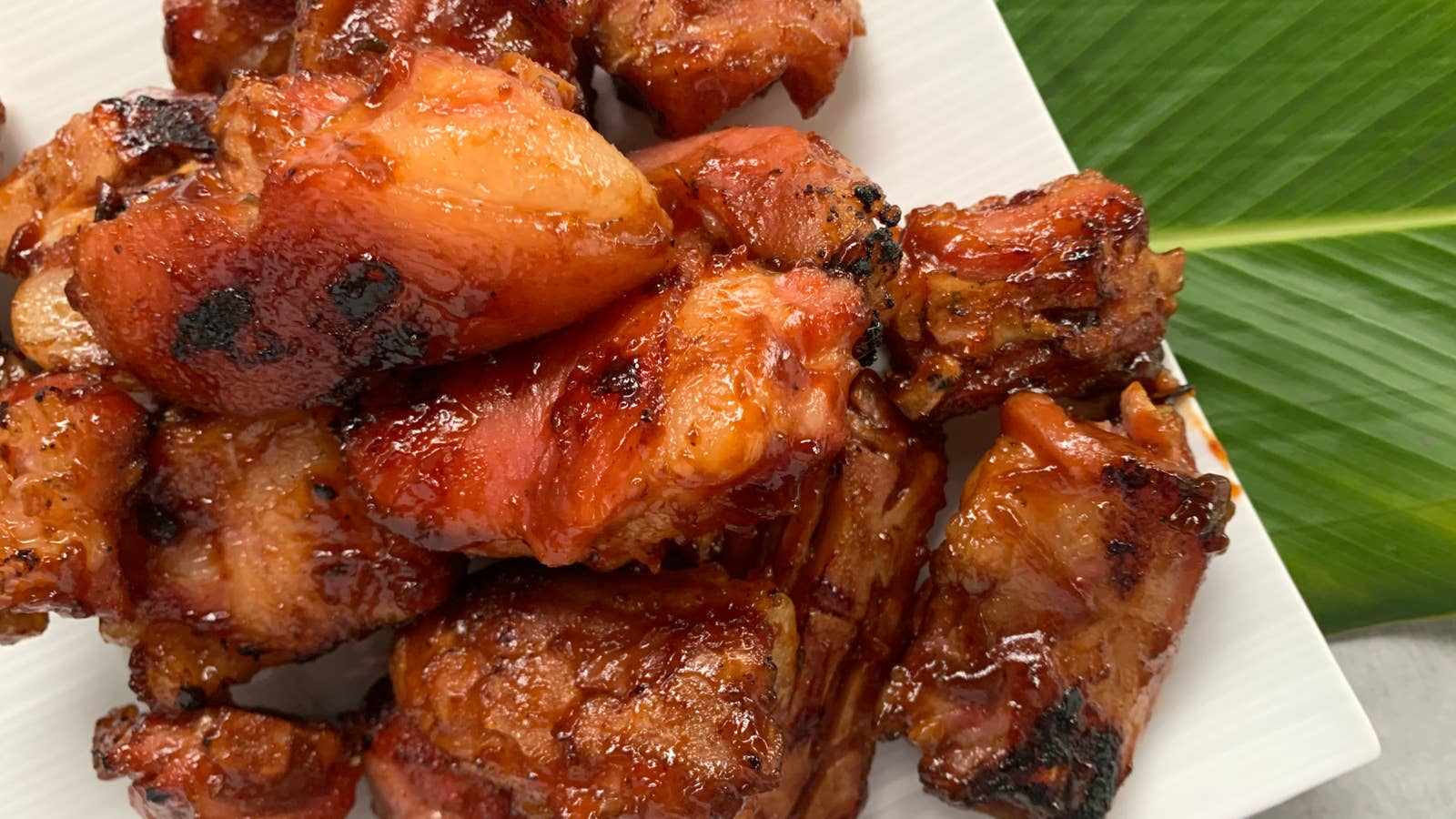 Ingredients
for 4 servings
Green Seasoning
1 cup fresh cilantro

(40 g)

1 cup fresh parsley

(40 g)

¼ cup water

(60 mL)

1 scotch bonnet pepper
salt, to taste
pepper, to taste
BBQ Pig's Tail
2 lb cured pig's tail

(905 g)

3 cups BBQ sauce

(780 g)

½ cup ketchup

(120 g)

3 tablespoons brown sugar
½ cup dark rum

(120 mL)

3 tablespoons garlic, minced
1 teaspoon ground ginger
1 teaspoon worcestershire sauce
1 teaspoon mustard
Nutrition Info
Estimated values based on one serving size.
Preparation
Blend together ingredients for green seasoning.
Add pig's tail to pot of boiling water for 20 minutes to rinse.
Add blended green seasoning to a second pot of boiling water and then re-add pig's tail to water. (You will be boiling the pigs tail twice in total)
Remove pig's tail from the water after 15 minutes ensuring not to rinse them off the second time.
Heat BBQ grill to 350°F (180°C) or set oven to 350°F (180°C).
Combine the BBQ sauce, ketchup, mustard, brown sugar, rum, garlic, ginger, Worcestershire sauce, and mustard in a medium bowl.
If using a BBQ grill, cook pig's tail on each side for 3 minutes and then add the sauce and again leave each side for 4 minutes until the fat has somewhat melted and is dark and sizzling.
If using oven, cover pig's tail with foil and bake for 6 minutes without sauce. Brush BBQ sauce onto pig's tail, making sure both sides are covered completely in sauce. Leave for another 5 minutes, still covered with foil, and then for another three minutes without the foil to achieve a dark crispness on the outside.
Best served hot!