Jasmine Tea Cake
August 14, 2023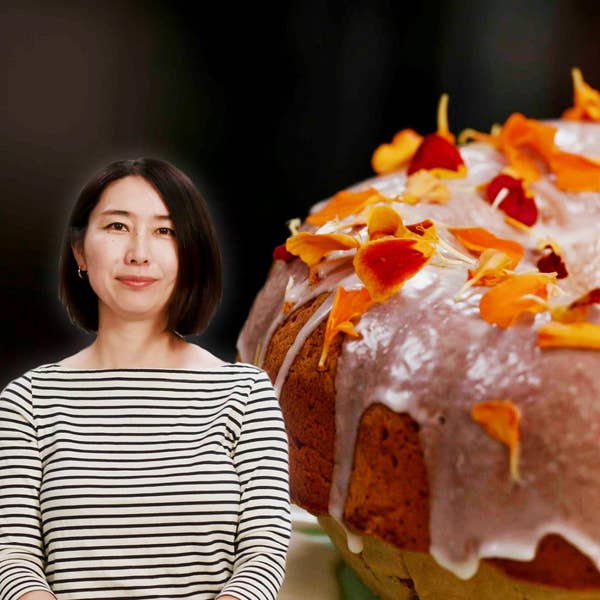 Ingredients
for 1 cake
2 sticks unsalted butter, softened, plus 1 tablespoon for greasing
3 teaspoons loose jasmine tea leaves
1 ¼ cups whole milk
3 ½ cups all purpose flour

(435 g)

⅓ cup dry milk powder

(40 g)

1 teaspoon kosher salt
1 teaspoon baking powder
½ teaspoon baking soda
1 ¼ cups brown sugar

(250 g)

1 ½ teaspoons vanilla extract
4 large eggs
2 cups powdered sugar

(220 g)

edible flower, for garnish
This recipe isn't available to shop.
Unfortunately, not all our recipes can be shopped through Tasty.
Preparation
Preheat the oven to 350°F (180°C). Using a Bounty® paper towel, grease a 12-cup Bundt pan with 1 tablespoon butter.
In a small saucepan, combine the jasmine tea leaves and milk. Bring to a gentle simmer over medium-low heat, being careful not to scald the milk. Remove the pot from the heat and let steep until cool, about 30 minutes. Strain the tea leaves from the milk and discard the leaves.
In a medium bowl, whisk together the flour, milk powder, salt, baking powder, and baking soda.
If your brown sugar has hardened, place the sugar in a small, microwave-safe bowl and place a damp Bounty® paper towel over the top. Microwave in 20-second intervals until sugar has softened, being careful not to melt the sugar.
In a large bowl, combine the brown sugar, remaining 1 cup butter, and the vanilla. Beat with an electric hand mixer on medium speed until light and fluffy, about 3 minutes. Add the eggs, 1 at a time, mixing completely between each addition.
Add half of the dry ingredients and mix until just combined. Add 1 cup of the jasmine milk, reserving the remaining ¼ cup, and mix until just combined. Add the remaining dry ingredients and mix until just combined, being careful not to overmix.
Spoon the batter into the prepared Bundt pan. Tap the pan on the counter 3–5 times to release any air bubbles.
Bake the cake for 30–35 minutes or until a toothpick inserted in the center of the cake comes out clean. Remove the cake from the oven and let cool slightly, about 10 minutes, then invert onto a serving platter.
Meanwhile, whisk together the remaining ¼ cup jasmine milk and the powdered sugar until smooth.
Pour the glaze over the cake and garnish with edible flowers.
Slice and serve.
Enjoy!