Jerk Chicken And Pineapple Skewers
November 09, 2022
Total Time
2 hr 5 min
2 hr 5 min
Prep Time
20 minutes
20 min
Cook Time
45 minutes
45 min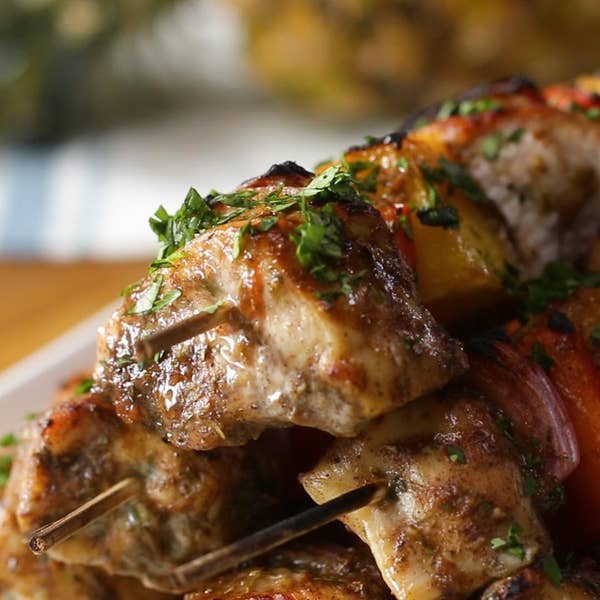 Total Time
2 hr 5 min
2 hr 5 min
Prep Time
20 minutes
20 min
Cook Time
45 minutes
45 min
Ingredients
for 4 servings
7 scallions, cut into 2 in (5 cm) pieces
3 habanero peppers, seeded
8 cloves garlic
1 fresh ginger, peeled and thinly sliced
⅓ cup dark brown sugar

(75 g)

, tightly packed
2 tablespoons soy sauce
1 tablespoon ground allspice
1 teaspoon cinnamon
1 tablespoon dried thyme
1 ½ lb boneless, skinless chicken breast

(680 g)

, cut into 1 1/2 in (3 cm) pieces
8 oz pineapple juice

(240 mL)

¼ cup ketchup

(60 g)

, plus 2 tablespoons of ketchup
kosher salt, to taste
1 large red onion, cut into 1 1/2 in (3 cm) pieces
2 red bell peppers, cut into 1 1/2 in (3 cm) pieces
2 cups pineapple

(490 g)

, cut into 1 1/2 in (3 cm) cubes
lime wedge, for serving
¼ cup fresh cilantro

(10 g)

, finely chopped, for garnish
Special Equipment
8 bamboo skewers, soaked in warm water for 20 minutes, 8 inches (20 cm)
Nutrition Info
Calories

387

Fat

4g

Carbs

49g

Fiber

4g

Sugar

34g

Protein

38g
Estimated values based on one serving size.
Preparation
Preheat the oven to 375ºF (190ºC). Line 2 baking sheets with parchment paper.
In a food processor, combine the scallions, habanero peppers, garlic, ginger, brown sugar, soy sauce, allspice, cinnamon, and thyme. Puree until broken down into a into a thick paste, about 1 minute.
In a medium bowl, toss the chicken with 2-4 tablespoons of the jerk paste until well coated. Cover and refrigerate for 1 hour.
Meanwhile, make the jerk sauce: Combine 2-4 tablespoons of the jerk paste with the pineapple juice and ketchup. Season to taste with salt.
Thread the skewers with 2 pieces each of the marinated chicken, red onion, bell pepper, and pineapple, alternating ingredients.
Arrange the skewers on the prepared baking sheets. Season with salt. Brush about ⅓ cup (85 G) of the jerk sauce over the skewers. Reserve the remaining sauce.
Roast the skewers for 22-25 minutes, turning halfway, until the chicken is cooked to an internal temperature of 165ºF (75ºC).
Remove the baking sheets from the oven and discard the parchment paper, then return the skewers to the pans. Turn the broiler to high.
Baste the skewers on all sides with the jerk sauce.
Broil for 3-4 minutes, until the vegetables just begin to char and the sauce is slightly caramelized.
Transfer the skewers to a platter. Squeeze the lime wedges over the hot skewers and garnish with the cilantro.
Enjoy!