Kashmiri Chai
Kashmiri chai, also known as noon chai, originates from the Kashmir valley and features a beautiful pink hue that comes from the addition of baking soda.
August 17, 2023
Total Time
17 minutes
17 min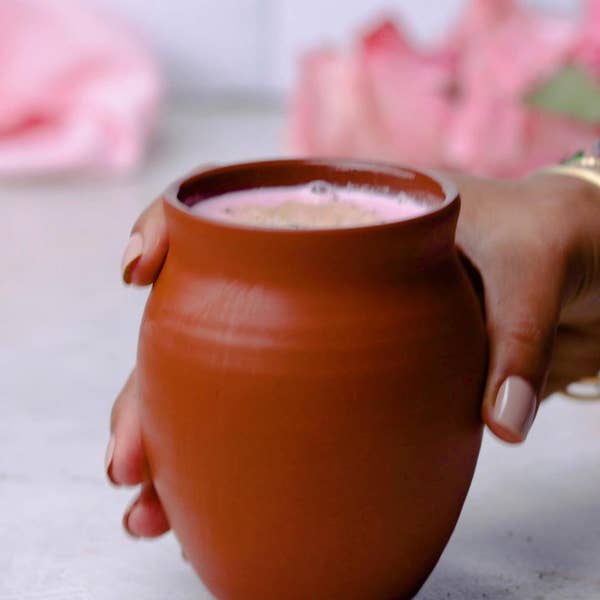 Total Time
17 minutes
17 min
Ingredients
for 3 servings
9 whole green cardamom pods
1 cup water

(240 mL)

, room temperature
2 tablespoons kashmiri tea leaves, or any non-bitter green tea
4 whole star anises
4 whole cloves
2 whole cinnamon sticks
¼ teaspoon baking soda
1 cup ice water

(240 mL)

¾ cup whole milk

(180 mL)

, or non-dairy milk of choice
¾ cup half & half

(180 mL)

, or thick non-dairy creamer of choice
2 tablespoons granulated sugar, to taste
¼ teaspoon kosher salt
1 ½ teaspoons unsalted raw pistachios, crushed with a mortar and pestle
½ tablespoon raw almonds, crushed with a mortar and pestle
Nutrition Info
Calories

236

Fat

15g

Carbs

21g

Fiber

9g

Sugar

11g

Protein

6g
Estimated values based on one serving size.
Preparation
Add the cardamom pods to a mortar and crush with a pestle into small pieces.
Add the room temperature water, Kashmiri tea leaves, crushed cardamom, star anise pods, cloves, and cinnamon sticks to a small saucepan. Bring to a boil over medium-high heat. Once boiling, add the baking soda (it will fizz and bubble) and reduce the heat to medium. While boiling, use a ladle to scoop some liquid from the pot and pour it back in from as high as you can without splattering (the aeration of the liquid helps give the tea its pink hue). Continue until the liquid is reduced by half, 7–10 minutes.
Add the ice water and continue to aerate the tea with the ladle for another 2 minutes. Add the milk, half-and-half, sugar, and salt and bring to a gentle simmer. Once simmering, remove the pot from the heat and steep for another 3 minutes.
Strain the chai through a fine-mesh sieve into a heatproof spouted measuring cup, making sure to squeeze out all the liquid. Discard the solids.
Divide the chai between 3 mugs and top with the crushed pistachios and almonds. Serve immediately.
Enjoy!
Your favorite recipes are just a click away. Download the Tasty app to save and organize your favorites.