Leftover Chapatti Tea Time Snacks
This recipe was submitted by a Tasty Community Member, and hasn't been tested by the Tasty recipe team.

Have a recipe of your own to share?

Submit a recipe here!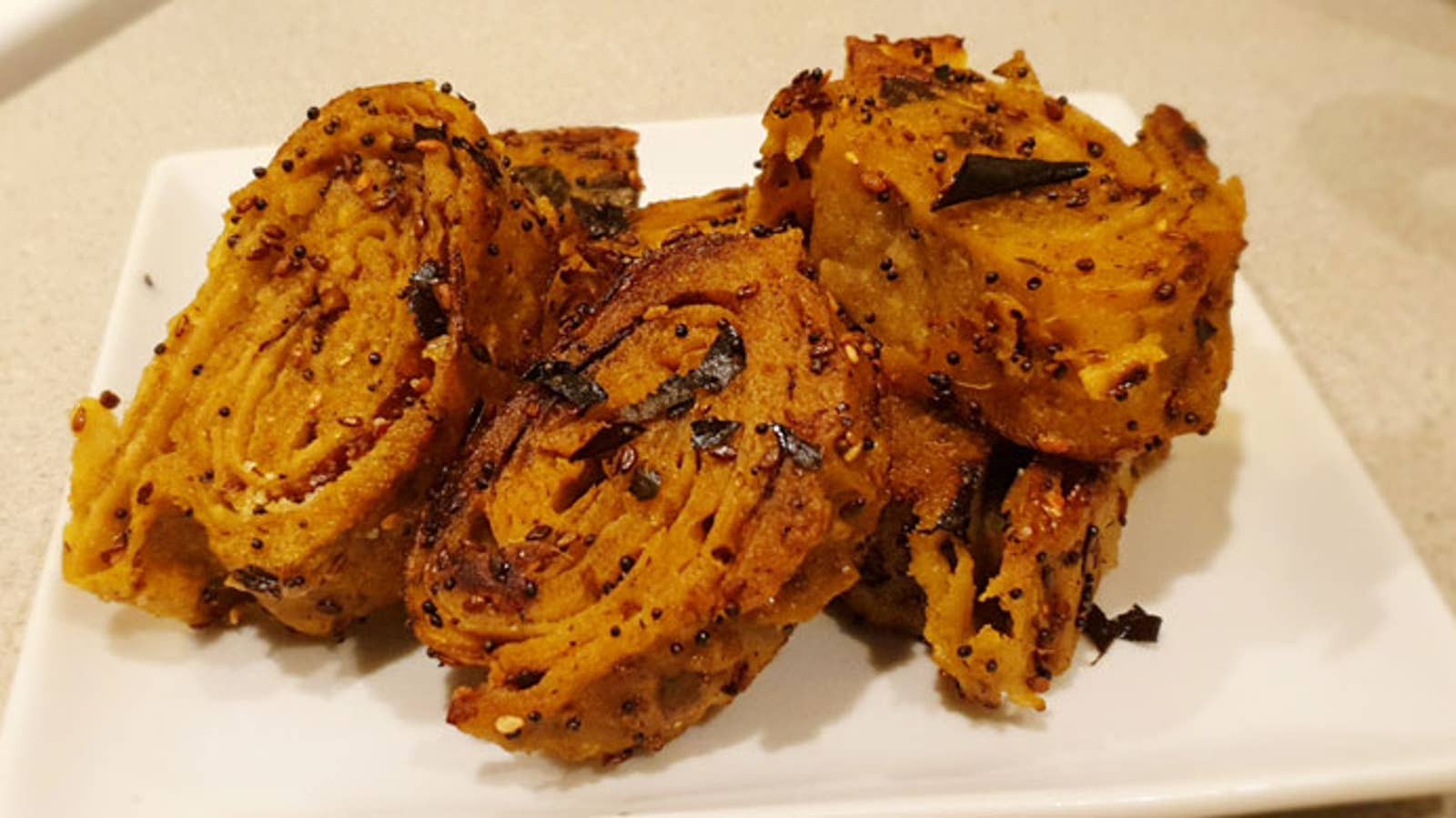 Ingredients
for 2 servings
6 pieces whole wheat chappati indian flatbread
1 cup flour

(125 g)

½ teaspoon red chili powder
½ teaspoon turmeric
½ teaspoon cumin
2 teaspoons ground coriander
½ teaspoon chaat masala
½ teaspoon garam masala
½ teaspoon cumin seed
½ teaspoon mustard seed
½ teaspoon fennel seeds
½ teaspoon carom seeds
1 pinch asadetida
2 tablespoons cooking oil
1 tablespoon lemon juice
1 tablespoon sugar
3 green chilli peppers, finely chopped
fresh coriander leaves and curry leaf, to taste
salt, to taste
½ water
Nutrition Info
Powered by
Estimated values based on one serving size.
Preparation
In a bowl add gram flour, spices, oil, lemon juice, sugar, and salt. Mix well.
Slowly add water until the batter is thick but lump-free
Add coriander and green chilis and mix well.
Set up steamer pot over water
Arrange chapatti on a working surface. Work in batches ½ inch (1 ¼ cm) thick. Place one chappati over the next and repeat 3 times..
Make 2 rolls, each of which should have 3 chapati. Cover all sides of the roll with thick batter.
Put oil on the surface of the steamer and place the rolls in the steamer. Cook until it seems and you can remove a knife from the batter cleanly.
Remove the rolls from the steamer and allow to cool down completely. Cut the rolls into 1- inch (2 ½ cm) pieces.
Add 1 Tbsp oil to a heated pan. Add 1 tsp mustard seeds, 2 chopped green chillies, fresh curry leaves, and salt to taste.
Add all the pieces of chapatti to the pan and stir over high heat until it crispy and coated with spices, about five minutes.
Serve hot with fresh onion thin flakes and green chutney.
RECIPE VARIATION
You can use Maize, millet flour, buckwheat flour, or sorghum flour in place of Gram flour. Make sure to add more or less water accordingly. You may also skip the frying step.