Lentil "Dirty Rice"
During the COVID-19 pandemic, this dish became a regular hospital delivery staple because of its comforting heartiness, abundance of flavor, but also the fact that it's meat free. We always offer a vegetarian option, but also try to make that option just as exciting as any meat-driven dish that we provide. We've also taken a version of this dish and added it to the current menu at Playa Provisions. That version is a bit more refined, but hits all the same notes.
July 22, 2020
Total Time
45 minutes
45 min
Prep Time
25 minutes
25 min
Cook Time
20 minutes
20 min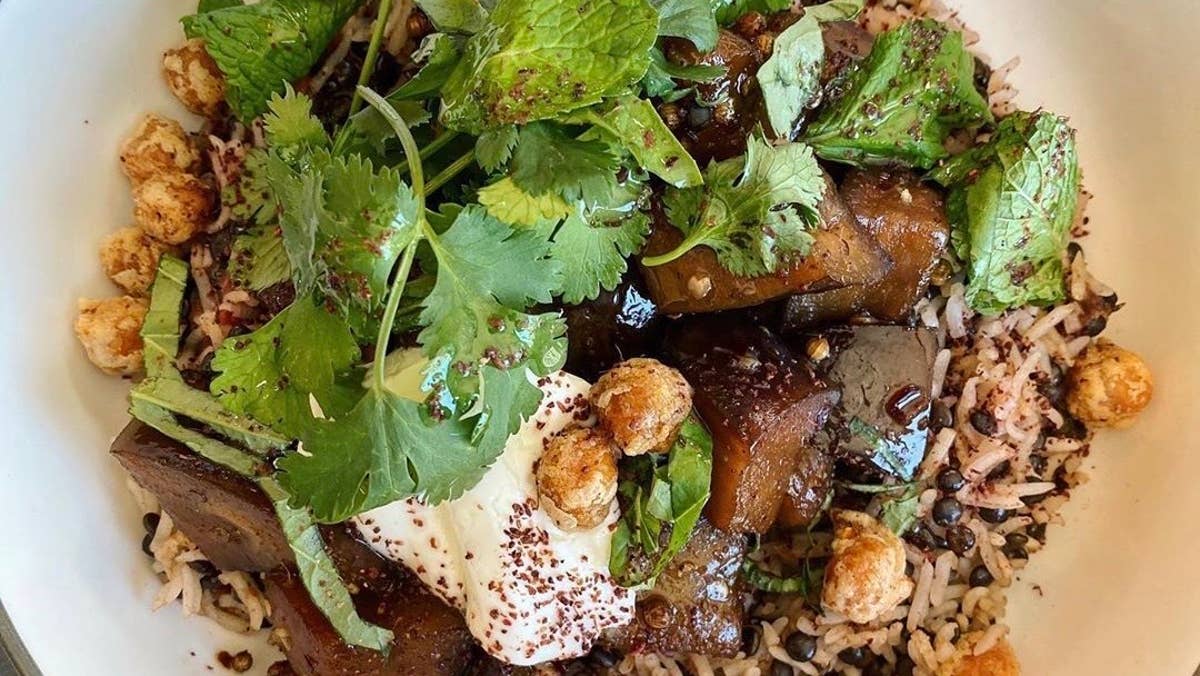 Total Time
45 minutes
45 min
Prep Time
25 minutes
25 min
Cook Time
20 minutes
20 min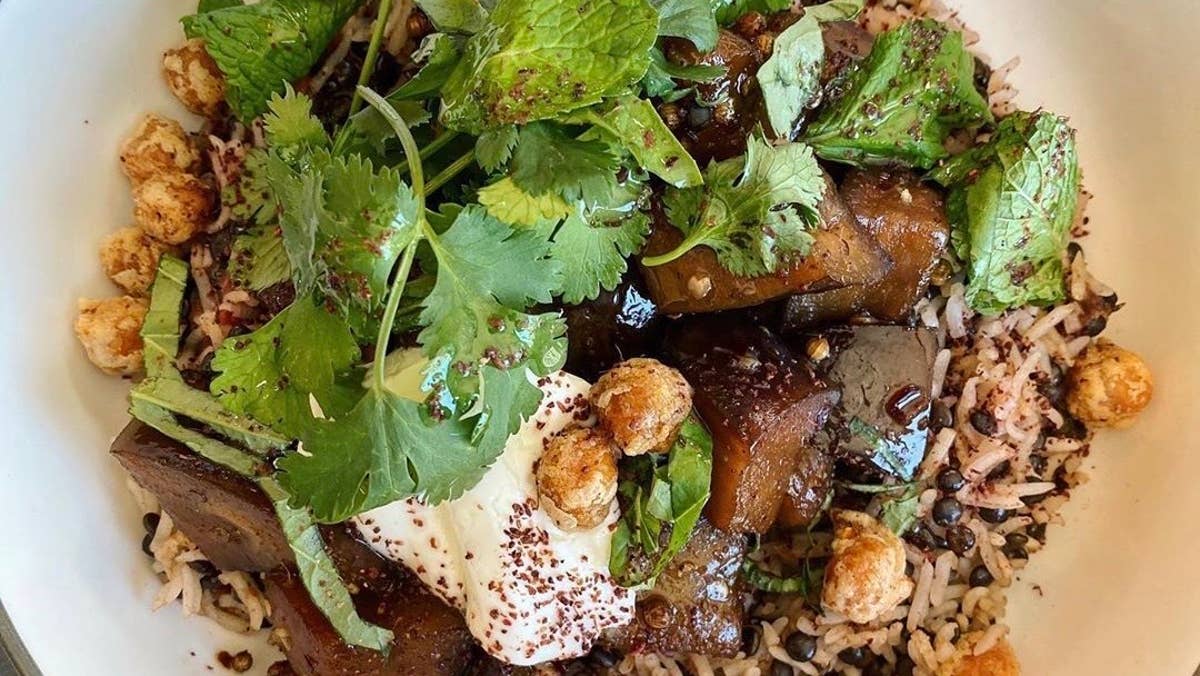 Ingredients
for 4 servings
Sweet & Sour Eggplant
6 japanese eggplants, sliced into 1-inch rounds and lightly salted for 15-20 minutes prior to cooking
2 cloves garlic, sliced
1 tablespoon sesame oil
1 tablespoon canola oil
½ red onion, diced
¼ cup cider vinegar

(60 mL)

⅛ cup sherry vinegar

(30 mL)

¼ cup mirin

(60 mL)

2 tablespoons soy sauce
¼ cup agave

(60 mL)

1 teaspoon whole coriander
1 pinch chili flakes
salt and pepper, to taste
Grain Blend
4 cups legumes

(400 g)

, or use your favorite grains (I use an even mix of brown rice, black rice, and quinoa. Sushi rice could also be used, mixed with lentils then chilled, cut into bars, and fried)
Crispy Garbanzo Beans
1 cup garbanzo beans

(200 g)

, cooked and drained
1 tablespoon canola oil, if baking
1 teaspoon garlic powder
1 teaspoon ground cumin
1 teaspoon smoked paprika
1 teaspoon chili powder
salt, to taste
Sumac Yogurt Sauce
1 cup plain yogurt

(240 g)

1 tablespoon sumac
1 teaspoon cumin
2 tablespoons honey
salt, to taste
Garnish
1 cup mixed herbs

(40 g)

, such as mint, cilantro, basil, and scallions
Preparation
For the Sweet & Sour Eggplant: Heat a large sauté pan over high heat. Add both oils and then the salted eggplant. Sauté until the eggplant begins to brown, adding more canola oil if needed. In a bowl or measuring cup, combine all remaining ingredients. Deglaze your hot browning eggplant pan with the vinegar mixture, allowing it to reduce by about half. Season with salt and pepper and set aside.
For the Crispy Garbanzo Beans: These are best (in my opinion) when deep fried until crispy in 325-degree vegetable oil... but they're also very good when baked at 350 degrees in an oven.
If frying; toss the garbanzo beans with all spices and fry them for about 4 minutes, until golden brown and crunchy... then drain them on a paper towel while cooling.
If baking; toss the garbanzo beans with the oil, and then the spices, and bake. This will take approximately 45 minutes.
For the Sumac Yogurt Sauce: Combine all ingredients and keep cold until ready to use.
To assemble, place your grains in the base of a bowl. Top with warm eggplant, crispy garbanzo beans, a drizzle of sumac yogurt and fresh herbs.
Enjoy!
All your favorite recipes, stored in one place. Download the Tasty app and never lose a recipe again.