M&M'S® Marshmallow Fudge
August 14, 2023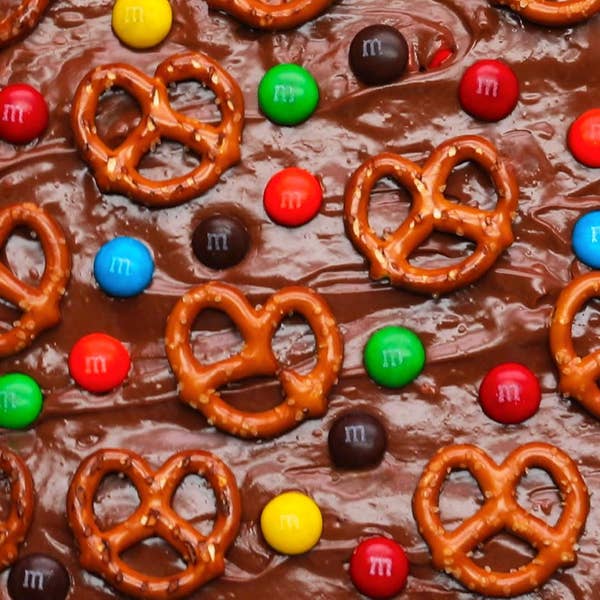 Ingredients
for 4 servings
nonstick cooking spray, for greasing
2 cups granulated sugar

(400 g)

¾ cup melted unsalted butter

(170 g)

⅔ cup evaporated milk

(160 g)

12 oz semisweet chocolate chip

(340 g)

7 oz marshmallow creme

(195 g)

1 teaspoon vanilla extract
1 cup Milk Chocolate M&M's®

(205 g)

, divided
½ cup crushed small pretzels

(85 g)

, plus ½ cup (85 g), whole
This recipe isn't available to shop.
Unfortunately, not all our recipes can be shopped through Tasty.
Preparation
Line a 9-inch (22 cm) square baking dish with parchment paper and grease with nonstick spray.
In a large saucepan over medium heat, combine the sugar, melted butter, and evaporated milk and stir until the sugar dissolves, about 3 minutes. Increase the heat to medium-high and bring to a boil, stirring constantly, until thickened, about 5 minutes.
Remove the pot from the heat and add the chocolate chips. Stir until the chocolate melts, then add the marshmallow creme and vanilla and stir until smooth. Fold in ½ cup of M&M's® and the crushed pretzels.
Transfer the fudge to the prepared pan and spread in an even layer. Press the whole pretzels and remaining ½ cup M&M's® into the surface. Let the fudge set in the refrigerator for 1 hour.
Cut the fudge into 1-inch squares. Place each piece in a small paper muffin cup and serve on a platter, or gift to a loved one.
Enjoy!