Mac 'N' Cheese Crust Pizza
Amazon Fresh is a grocery service in select cities. Prime members in select cities can shop for groceries, everyday essentials, and more with Amazon Fresh. Amazon Fresh offers Attended Delivery and Unattended Delivery, with Pickup options in select cities. Visit Amazon.com/Fresh to see if delivery or pickup is available in your area. For additional online grocery delivery and pickup options, visit amazon.com/grocery.
December 17, 2020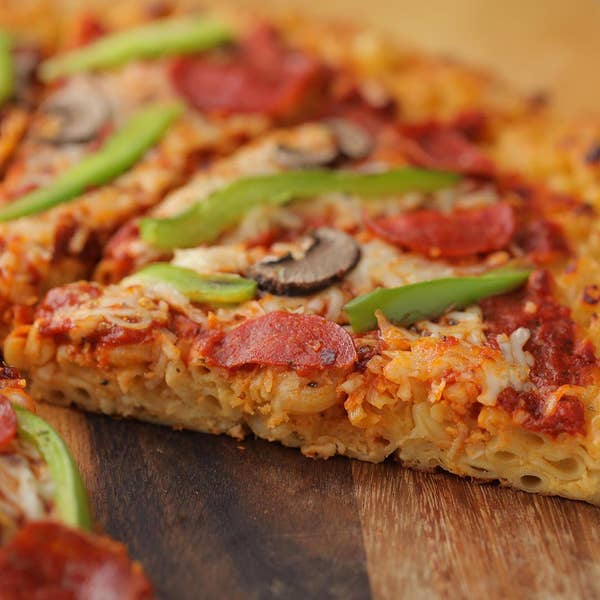 Ingredients
for 10 servings
Mac 'N' Cheese
½ stick unsalted butter
¼ cup all purpose flour

(25 g)

½ teaspoon kosher salt, plus more to taste
⅛ teaspoon freshly ground black pepper
2 cups milk

(480 mL)

2 cups Happy Belly Shredded Sharp Cheddar Cheese

(480 mL)

1 lb elbow macaroni

(455 g)

, cooked until al dente according to package instructions
2 large eggs, beaten
½ cup panko breadcrumbs

(55 g)

nonstick cooking spray, for greasing
Pizza Assembly
1 ¾ cups pizza sauce

(295 g)

1 ½ cups Happy Belly Shredded Low Moisture Part-Skim Mozzarella Cheese

(150 g)

⅓ cup pepperoni slices
½ green bell pepper, thinly sliced
¼ cup mushroom

(35 g)

, sliced
½ teaspoon red pepper flakes, crushed
½ teaspoon italian seasoning, optional
This recipe isn't available to shop.
Unfortunately, not all our recipes can be shopped through Tasty.
Preparation
Preheat the oven to 400°F (200°C).
Make the mac 'n' cheese: Melt the butter in a large saucepan over medium heat. Stir in the flour, salt, and pepper until smooth. Slowly pour in the milk, stirring constantly, until the mixture is smooth and bubbling, about 5 minutes. Add the Happy Belly Cheddar and stir until melted, 2–4 minutes.
Fold the cooked macaroni into the cheese sauce until well coated.
Fold in the eggs and bread crumbs until incorporated.
Grease a 16-inch pizza pan with nonstick spray. Spoon the mac 'n' cheese onto the pan and smooth in an even layer, pressing gently on the top and sides to release any air bubbles and tidy up the edges.
Bake the mac 'n' cheese crust for 25–30 minutes, until browned on top and holding together.
Remove the crust from the oven and spread the pizza sauce evenly over the top, leaving a 1-inch border around the edges.
Top with the Happy Belly Mozzarella, pepperoni, bell pepper, and mushrooms.
Return the pizza to the oven for 5–10 minutes, or until the cheese is melted and browned to your liking.
Remove the pizza from the oven and sprinkle the red pepper flakes and Italian seasoning on top, if using. Let the pizza rest in the pan for 6–8 minutes, until cool enough to handle.
Transfer the pizza to a cutting board and cut into 10–12 slices.
Enjoy!