Maggi Fried Chicken Sandwich
Matt was challenged by the producers at BuzzFeed India to take one of their favorite convenience foods and turn it into something unique. Watch Matt transform Maggi noodles into a delicious, crispy fried chicken sandwich.
November 04, 2020
Total Time
55 minutes
55 min
Prep Time
10 minutes
10 min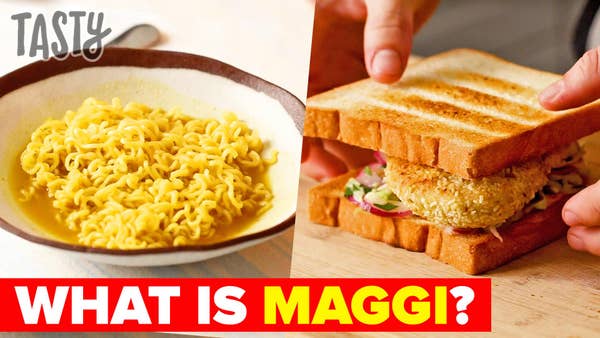 Total Time
55 minutes
55 min
Prep Time
10 minutes
10 min
Ingredients
for 1 serving
1 packet masala-flavored Maggi® noodle packet
2 tablespoons all purpose flour
1 large egg
1 chicken breast, thin
kosher salt, to taste
¼ cup canola oil

(60 mL)

2 slices white bread, toasted
Cilantro Lime Slaw
1 cup shredded green cabbage

(100 g)

2 tablespoons red onion, thinly sliced
¼ teaspoon fresh ginger, grated
1 ½ teaspoons fresh lime juice
1 tablespoon olive oil
1 tablespoon fresh cilantro, chopped
Spicy Masala Mayo
2 tablespoons mayonnaise
1 pinch cayenne
Preparation
Add the Maggi noodles to a small food processor. Pulse until broken down to the size of panko bread crumbs. Transfer to a medium bowl and stir in 1½ teaspoons of the masala seasoning packet, reserving the rest of the seasoning packet for the spicy masala mayo.
Add the flour and egg to 2 separate shallow bowls and beat the egg.
Season the chicken with salt, then coat in the flour, then the egg, then the seasoned noodle crumbs.
Transfer the chicken cutlet to a plate and refrigerate for 30 minutes while you make the slaw and mayo.
Make the cilantro lime slaw: In a medium bowl, toss together the cabbage, red onion, ginger, lime juice, olive oil, and cilantro. Set aside until ready to use.
Make the spicy masala mayo: In a small bowl, stir together the mayo, remaining teaspoon of masala seasoning, and the cayenne. Set aside until ready to use.
Heat the canola oil in a small nonstick skillet over medium heat. Add the breaded chicken and cook for 3–4 minutes per side, until golden brown and the internal temperature reaches 165°F (75°C). Transfer to a paper towel-lined plate to drain.
To assemble, evenly spread the spicy masala mayo on both slices of the toasted bread. Top one piece of bread with slaw and the fried chicken, then top with the other slice of bread.
Cut the sandwich in half diagonally, then serve.
Enjoy!
Love this recipe? Download the Tasty app to save it and discover others like it.