94% would make again
Marcus Samuelsson's Tibs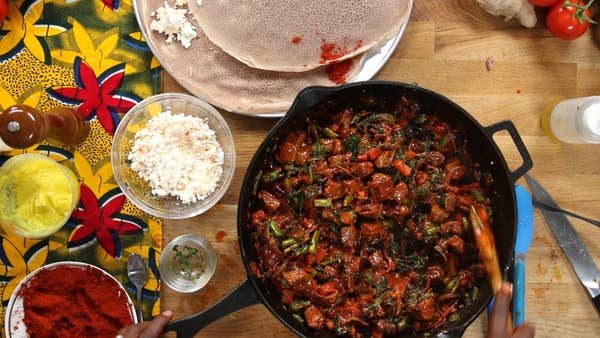 Ingredients
for 8 servings
1 lb beef tenderloin

(455 g)

, cubed
canola oil, to taste
½ teaspoon kosher salt, plus more to taste
pepper, to taste
1 tablespoon berbere, plus more to taste
2 cups broccoli rabe

(80 g)

, roughly chopped
2 teaspoons spiced butter, niter kibbeh, or clarified butter
1 medium red onion, thinly sliced
2 cloves garlic, minced
1 ginger, 1 inch (2 cm) piece, peeled and minced
2 jalapeñoes, sliced
2 sprigs fresh rosemary, leaves, chopped
½ teaspoon ground cumin
½ cup crushed tomato

(100 g)

, canned
2 tablespoons red wine vinegar
2 teaspoons dijon mustard
2 medium tomatoes, chopped
2 teaspoons fresh cilantro, chopped
injera, for serving
cheese, fresh - Ayib, for serving
Nutrition Info
Estimated values based on one serving size.
Preparation
Cut the beef tenderloin into cubes. Reserve any fat trimmings and other scraps.
Heat the canola oil in a large skillet over high heat. Add the beef scraps and stir to season the pan. Add the cubed beef to the skillet and season to taste with salt, pepper, and berbere. Sear the meat for 2 minutes, then remove from the pan and let rest. Keep any meat juices behind in the pan.
To the pan, add the broccoli rabe and cook until wilted. Remove from the pan and set aside.
Add a drizzle of canola oil and the kibbeh to the same pan over medium heat. Once the kibbeh is melted, add the onion, garlic, ginger, and jalapeños and sauté for 3 minutes, until starting to soften.
Add the rosemary, cumin, and cook for one minute. Add the crushed tomatoes, red wine vinegar, mustard, berbere, and cooked broccoli rabe. Cook for 3 minutes, until simmering
Return the beef to the pan, along with the chopped tomatoes and cilantro. Simmer for 2 minutes to allow the flavors to meld. Remove the pan from the heat.
Serve the tibs over injera, garnished with berbere and ayib.
Enjoy!