Margarita Burger
We took everything you love about a margarita and turned it into a burger. The spicy black bean patty is made with cilantro, jalapeño, and fresh scallions. Paired with homemade tequila-pickled vegetables provide a tangy crunch, while creamy guacamole and queso panela help cool things off. We brush store-bought burger buns with egg wash, sprinkle with coarse sea salt, and toast in the oven for a finishing touch.
August 14, 2023
Prep Time
35 minutes
35 min
Cook Time
15 minutes
15 min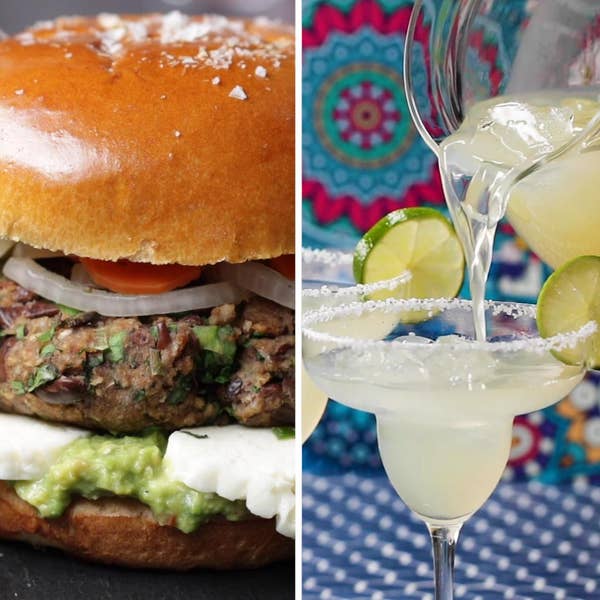 Prep Time
35 minutes
35 min
Cook Time
15 minutes
15 min
Ingredients
for 4 servings
Tequila Pickles
1 tablespoon olive oil
1 carrot, thinly sliced into rounds
1 large jalapeño, thinly sliced into rounds
½ small white onion, thinly sliced into half moons
2 garlics, smashed
½ cup tequila blanco

(120 mL)

¼ cup distilled white vinegar

(60 mL)

1 small dried bay leaf
1 teaspoon whole black peppercorn
1 teaspoon dried mexican oregano
1 teaspoon sugar
1 teaspoon kosher salt
½ cup ice

(70 g)
Guacamole
¼ cup fresh lime juice

(60 mL)

2 large garlics, minced
1 fresno chilie, seeded and minced
2 large ripe avocados, peeled and pitted
1 teaspoon kosher salt
Black Bean Burgers
2 cans black beans, drained and rinsed
1 cup panko breadcrumbs

(115 g)

1 bunch fresh cilantro, chopped
1 bunch scallions, sliced
1 large jalapeño, minced
1 teaspoon kosher salt
1 ½ teaspoons ground cumin
½ teaspoon McCormick® Smoked Paprika
2 large eggs
2 tablespoons olive oil
Assembly
4 plain burger buns
1 large egg, beaten
1 tablespoon coarse sea salt
8 slices queso panela
Included in this Recipe
Classic Margarita For A Crowd
Preparation
Make the tequila pickles: In a large, high-walled skillet, heat the olive oil over medium heat. Add the carrots, jalapeño, onion, and garlic and sauté, stirring constantly, until the vegetables start to become tender but do not change color, about 3 minutes. Transfer the vegetables to a 16-ounce airtight, heat-proof container.
Return the pan to medium heat and add the tequila, white vinegar, bay leaf, black peppercorn, oregano, sugar, and salt. Bring to a boil and cook until reduced by ⅓, about 2 minutes. Pour the mixture over the vegetables and let sit for 10 minutes. Add the ice to the container and stir until completely melted. Cover and refrigerate until ready to use. The pickles can be made up to 1 week ahead.
Make the guacamole: In a large bowl, combine the lime juice, garlic, and Fresno chile. Let sit at room temperature for 10 minutes. Add the avocados and salt and use a fork to mash together. Cover with plastic wrap, pressing directly against the surface of the guacamole. Refrigerate until ready to use.
Make the black bean burgers: Preheat the oven to 375°F (190°C).
Add the black beans to a large bowl and use a potato masher to break down the beans until semi-smooth, with some beans left whole for texture. Add the panko bread crumbs, cilantro, scallions, jalapeño, salt, cumin, paprika, and eggs. Stir with a wooden spoon to combine. Shape the mixture into 4 patties. Place the patties on a plate and refrigerate for 30 minutes.
Meanwhile, place the intact burger buns on a baking sheet. Brush the top of each bun with the beaten egg, then top with the sea salt. Transfer to the oven and bake until the egg wash turns golden brown, about 5 minutes.
Heat a large skillet over medium-high heat. Add the olive oil, then place the black bean patties in the pan in a single layer, working in batches if needed to avoid overcrowding. Cook until the patties begin to turn golden brown, about 3 minutes per side.
Assemble the burgers: Open the buns and spoon guacamole onto each bottom bun, spreading to cover completely. Place 2 slices of queso panela over the guacamole and top with a burger patty, followed by tequila pickles. Place the top bun on top. Serve with classic margaritas.
Enjoy!
Busy? Plan your meals for the week using our exclusive meal planner tool in the Tasty app. Download now and get organized.