Margarita Shrimp With Coconut Greens And Hawaiian Macaroni Salad
This is a deliciously balanced summer meal with everything included! Citrusy margarita shrimp, creamy and decadent mac salad, and sweet and savory coconut-braised greens make the perfect trio on your plate.
May 04, 2023
Prep Time
40 minutes
40 min
Cook Time
50 minutes
50 min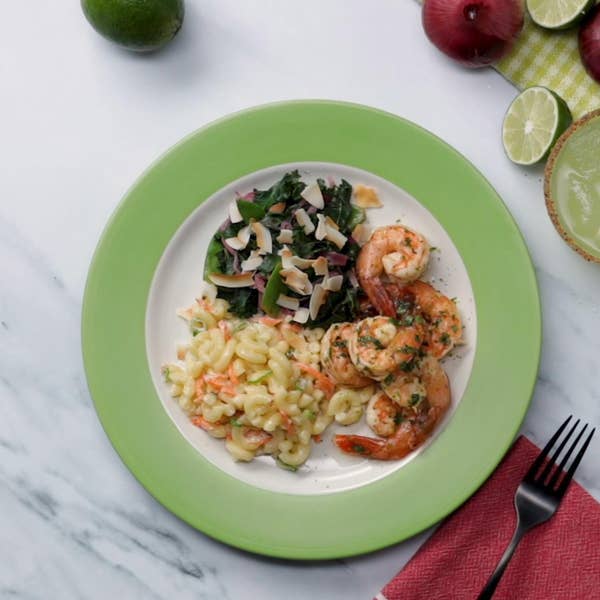 Prep Time
40 minutes
40 min
Cook Time
50 minutes
50 min
Ingredients
for 4 servings
Hawaiian Macaroni Salad
1 tablespoon kosher salt, divided, plus 1 teaspoon
1 lb elbow macaroni

(455 g)

2 cups mayonnaise

(480 g)

2 tablespoons apple cider vinegar
1 tablespoon onion powder
1 tablespoon sugar
2 medium carrots, shredded
2 scallions, thinly sliced
¼ cup buttermilk

(60 mL)
Margarita Shrimp
1 lb jumbo shrimp

(455 g)

, peeled and deveined, tails on
1 teaspoon kosher salt
1 ½ cups margarita mix

(360 mL)

4 tablespoons blanco tequila, divided
2 tablespoons fresh cilantro, finely chopped
1 lime, zested
Lime wedge, for serving
Braised Coconut Greens
2 tablespoons unrefined coconut oil
1 clove garlic, thinly sliced
1 small red onion, thinly sliced
kosher salt, and freshly ground black pepper, to taste
¼ cup unsweetend coconut milk

(60 mL)

, plus 2 tablespoons for serving
1 tablespoon light brown sugar
1 lime, juiced
2 bunches kale, stems discarded, leaves roughly chopped
4 oz snow peas

(120 g)

, ends trimmed, halved crosswise
¼ cup unsweetened toasted coconut flakes

(25 g)

, for serving
Preparation
Make the macaroni salad: Bring 3 quarts of water to boil in a Dutch oven over high heat. Add 1 tablespoon of salt and the macaroni. Cook al dente according to the package directions. Drain the pasta and return to the Dutch oven. Cool for 5 minutes.
Add the mayonnaise, apple cider vinegar, onion powder, sugar, and remaining 1 teaspoon of kosher salt to the pasta fold to thoroughly combine. Set aside to cool completely, about 30 minutes.
Marinate the margarita shrimp: Add the shrimp and kosher salt to a large bowl. Toss to combine. Pour the margarita mix over top. Cover and refrigerate for 15 minutes while you prepare the braised greens.
Make the braised coconut greens: Heat the oil in a medium saucepan over medium-low heat. When the oil is shimmering, add the garlic and onion. Season with salt and pepper. Cook for about 3 minutes, stirring often, until fragrant and just starting to soften.
Add ¼ cup of coconut milk plus the sugar and lime juice to the saucepan, stirring to dissolve the sugar.
Add the kale leaves and snow peas, and season again with salt and pepper. Cover the saucepan and simmer for about 5 minutes, until the leaves are wilted and soft and the snow peas are tender.
Cook the shrimp: Pour the marinade liquid into a 10-inch skillet, leaving the shrimp in the bowl. Bring the liquid to a boil over high heat and simmer for about 10 minutes, until the liquid is reduced by two-thirds to about ½ cup.
Add the shrimp and 2 tablespoons of tequila to the skillet. Cook, tossing occasionally, for about 3 minutes, until the shrimp are bright pink and opaque.
Add the remaining 2 tablespoons of tequila plus the cilantro and lime zest. Simmer for about 1 minute, tossing the shrimp to thoroughly coat. Serve immediately alongside the macaroni salad and braised greens.
Just before serving, fold in the carrots, scallions, and buttermilk into the cooled macaroni salad. Add the remaining 2 tablespoons of coconut milk to the greens and garnish with toasted coconut flakes.
Enjoy!
All your favorite recipes, stored in one place. Download the Tasty app and never lose a recipe again.