Meat Stuffed Potato By Tasty Bien
Meat stuffed potato is a hearty and delicious meal that is perfect for a comforting dinner. The potato is stuffed with a savory meat filling that is seasoned with fragrant herbs and spices.
May 04, 2023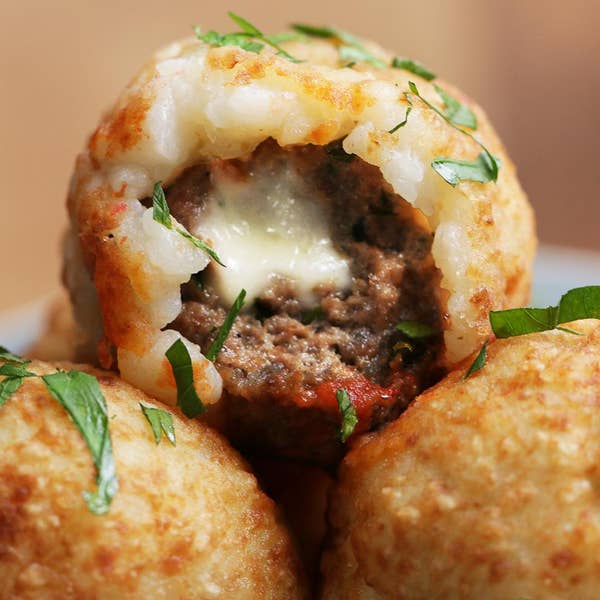 Ingredients
for 8 servings
1 lb ground beef

(455 g)

1 egg
1 cup grated parmesan cheese

(110 g)

1 cup fresh parsley

(40 g)

, chopped
1 tablespoon salt
1 tablespoon pepper
½ cup mozzarella cheese

(50 g)

, cubed
3 cups mashed potato

(750 g)

2 cups flour

(250 g)

4 cups vegetable oil

(960 mL)

fresh parsley, chopped, to serve
marinara sauce, to serve
Preparation
Preheat oven to 350ºF (180ºC).
In a bowl, mix the ground beef, egg, Parmesan cheese, parsley, salt, and pepper.
Take a piece of the meat mixture of about the size of a ping pong ball and slightly flatten it. Add a piece of mozzarella cheese in the center, and seal it with your hands.
Bake for 15 minutes.
Cover a meat ball with a layer of mashed potatoes, and mold it with your hands, continue molding it into a ball.
Dip the meatball in a bowl of flour. Repeat with remaining meatballs.
Heat the oil to 350ºF (180ºC). Fry the mashed potato-covered meatballs in batches until golden brown.
Transfer to a paper towel-lined plate.
Sprinkle with chopped parsley and serve with marinara sauce.
Enjoy!
Cook smarter, not harder. Use our AI chef Botatouille on the Tasty app. Download now.