Mediterranean Loaded French Fry Salad
What could make a salad better? Fries, of course! These loaded fries are topped with your favorite Mediterranean toppings, from crunchy cucumbers and onion to creamy chickpeas and feta, brought together with a tangy, herby yogurt sauce.
August 28, 2019
Total Time
1 hr 5 min
1 hr 5 min
Prep Time
45 minutes
45 min
Cook Time
20 minutes
20 min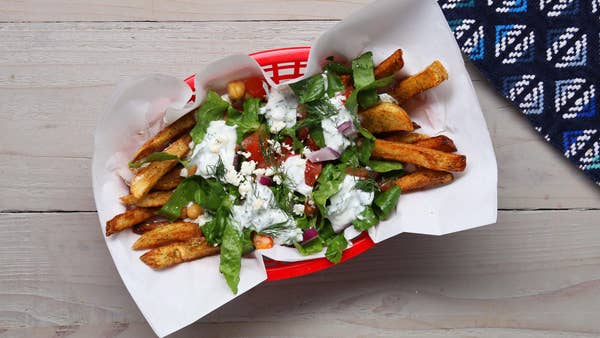 Total Time
1 hr 5 min
1 hr 5 min
Prep Time
45 minutes
45 min
Cook Time
20 minutes
20 min
Ingredients
for 2 servings
Yogurt Sauce
1 ½ cups plain full-fat greek yogurt

(365 g)

¼ cup fresh parsley

(10 g)

, roughly chopped
1 tablespoon fresh dill, chopped, plus more for garnish
2 cloves garlic, minced
1 teaspoon kosher salt
2 teaspoons lemon juice
Fries
4 cups vegetable oil

(960 mL)

, for frying
cold water, for soaking
2 cups ice

(280 g)

2 tablespoons lemon juice, divided
3 medium russet potatoes
1 package McCormick® Zesty Spice Blend
Toppings
½ cup chickpeas

(100 g)

, drained and rinses
½ cup cucumber

(65 g)

, diced
1 cup romaine lettuce

(70 g)

, chopped
1 plum tomato, diced
¼ cup red onion

(35 g)

, diced
½ cup feta cheese

(55 g)

2 tablespoons fresh dill, roughly chopped
Preparation
Make the yogurt sauce: In a medium bowl, mix together the yogurt, parsley, dill, garlic, salt, and lemon juice. Cover and refrigerate until ready to use, up to 1 week.
In a large, heavy-bottomed pot, heat 2–3 inches (5-7.5 cm) of vegetable oil over medium-low heat until the temperature reaches 325°F (170°C).
Make the fries: Fill a large bowl with cold water, the ice, and 1 tablespoon of lemon juice.
Peel the potatoes and slice into ¼-inch (½ cm) thick strips about 3 inches long. Transfer the potato slices to the cold water as you go. Rinse the potatoes under more cold water in the bowl until the water runs clear, rinsing off any excess starch. Add the remaining tablespoon of lemon juice and chill in the refrigerator for 30 minutes.
Line 2 baking sheets with thick paper, such as brown paper grocery bags.
Remove the potatoes from the fridge and drain, then dry completely with a clean kitchen towel.
Working in batches, cook the potatoes in the hot oil for 6–8 minutes, or until they're soft and light golden in color. Remove the fries from the oil using a wire mesh skimmer and transfer to the prepared baking sheets to drain. Let stand at room temperature for 15-20 minutes.
Increase the oil temperature to 375°F (190°C).
Working in batches, return the fries to the hot oil and cook for another 2–3 minutes, or until golden brown and crispy. Drain on clean paper-lined baking sheets. Sprinkle generously with the zesty seasoning
To assemble, spread a layer of fries on a platter and top with some of the yogurt sauce, the chickpeas, cucumbers, lettuce, tomato, red onion, and feta. Top with more yogurt sauce. Sprinkle with dill.
Enjoy!
Hate losing that perfect recipe? Save and organize recipes easily on the Tasty app. Download now.