Mexican Red Pork Tamales As Made By Edna Peredia
Take your taste buds on a trip to Mexico with these delicious and authentic red pork tamales! Made by Edna Peredia, a true master of Mexican cuisine, these tamales are filled with succulent pork and a flavorful red sauce, wrapped in corn husks, and steamed to perfection.
May 04, 2023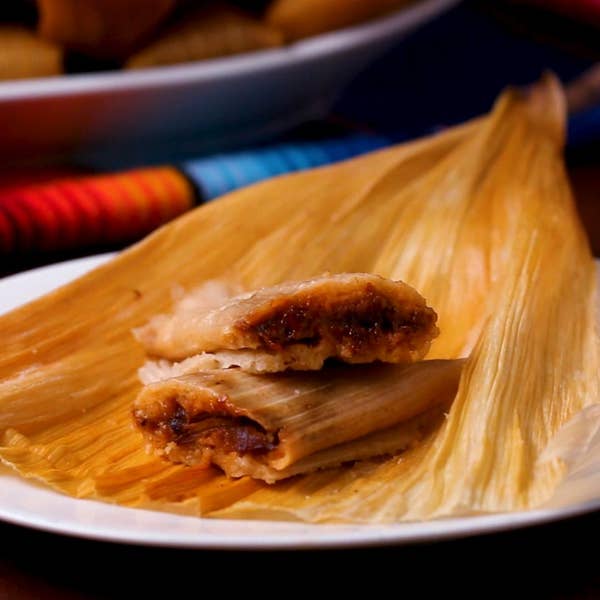 Ingredients
for 16 servings
For Wrapping
1 bag dry corn husk
hot water, for soaking
Tamales
2 roma tomatoes
½ small white onion
2 dried guajillo chiles, dried
2 dried pasilla chiles
2 cloves garlic
4 cups water

(960 mL)

, divided, plus 1 tablespoon
2 teaspoons salt, plus more to taste
pepper, to taste
½ tablespoon ground cumin
2 tablespoons canola oil
3 lb pork shoulder

(1.5 kg)

, cubed
1 teaspoon baking soda
1 teaspoon baking powder
¾ cup lard

(145 g)

2 lb fresh corn masa

(905 g)

salsa verde, for serving
Nutrition Info
Calories

487

Fat

24g

Carbs

46g

Fiber

5g

Sugar

1g

Protein

21g
Estimated values based on one serving size.
Preparation
Place the dry corn husks in a baking dish. Pour hot water over the husks to cover. Weigh the husks down so they are completely submerged and let soak for 2 hours, or until pliable.
Add the tomatoes, onion, guajillos, pasillas, garlic, and 4 cups (960 ml) of water to a small pot. Cover, bring to a boil, and cook for 10 minutes, or until the vegetables have softened.
Transfer the vegetables to a blender, Add salt and pepper to taste, the cumin, and about ½ cup (60 ml) of the cooking liquid. Blend until smooth. Set aside.
Heat the canola oil in a large skillet over medium-high heat. Add the pork and season with salt and pepper. Fry the pork until well-browned and most of the fat has evaporated. Drain any excess fat, if necessary.
Add the sauce to the pan with the pork, bring to a boil, cover, and let simmer until tender, about 1 hour. Remove from the heat and let cool.
In a small bowl, combine the baking soda, baking powder, and 1 tablespoon water. Stir to dissolve, then set aside.
Add the lard to a large bowl. With an electric hand mixer, whip the lard until light and fluffy, about 5 minutes.
Add the masa and baking soda mixture and mix with your hands until smooth, about 5 minutes. It should be spreadable but still hold its shape.
Drain the soaked corn husks.
Place 1 husk on a clean surface and add 1-2 tablespoons of masa to the center of the husk. Spread with the back of the spoon to about ¼ inch (¾ cm) from the edges.
Place 1 tablespoon of meat in the center. Roll the corn husk over the filling from left to right and fold the top down to create a little pocket. Set aside. Repeat with the remaining ingredients.
Place the tamales, open ends up, in a steamer basket set over a large pot of boiling water. Cover with a clean kitchen towel and the lid. Let steam for 1 hour, then turn off the heat and let the tamales rest for 1 hour more.
Unwrap the tamales and serve with salsa verde.
Enjoy!
Cook smarter, not harder. Use our AI chef Botatouille on the Tasty app. Download now.