Mini Cinnamon Roll Snack Mix
Ditch the yeast and get busy making these homemade bite-size cinnamon rolls! But the fun doesn't have to stop there. Toss them with candied pecans, pretzels, and chocolate chips for a sweet and salty cini-mini snack mix.
August 14, 2023
Total Time
1 hr 20 min
1 hr 20 min
Prep Time
15 minutes
15 min
Cook Time
55 minutes
55 min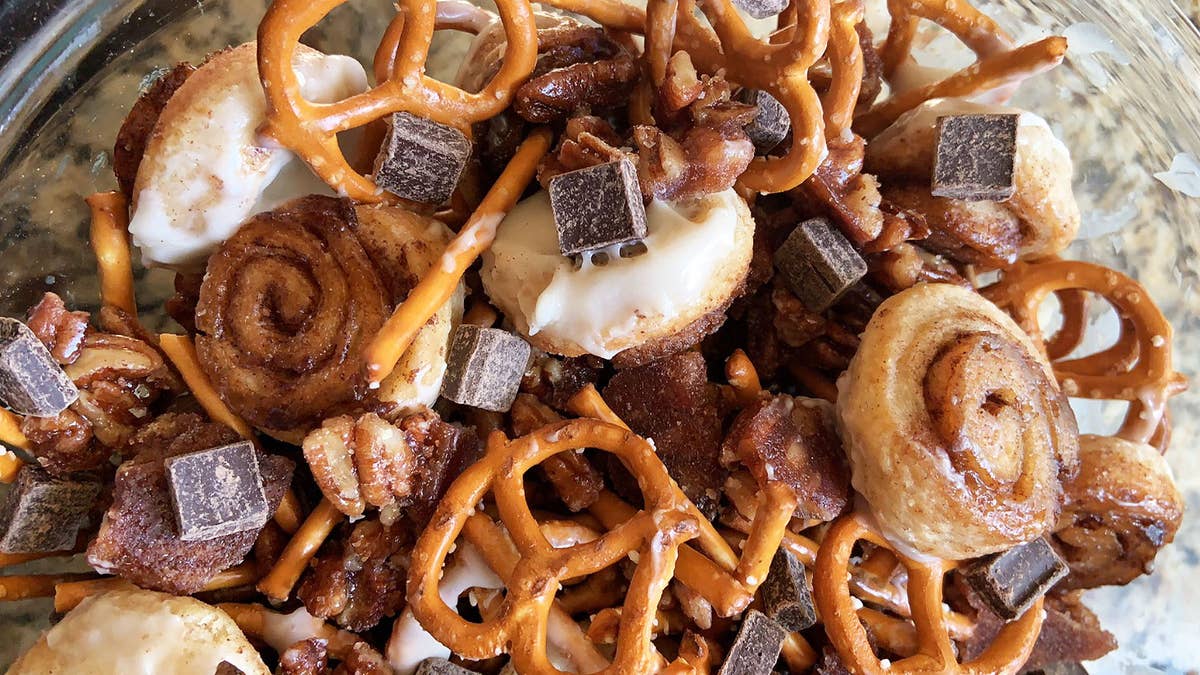 Total Time
1 hr 20 min
1 hr 20 min
Prep Time
15 minutes
15 min
Cook Time
55 minutes
55 min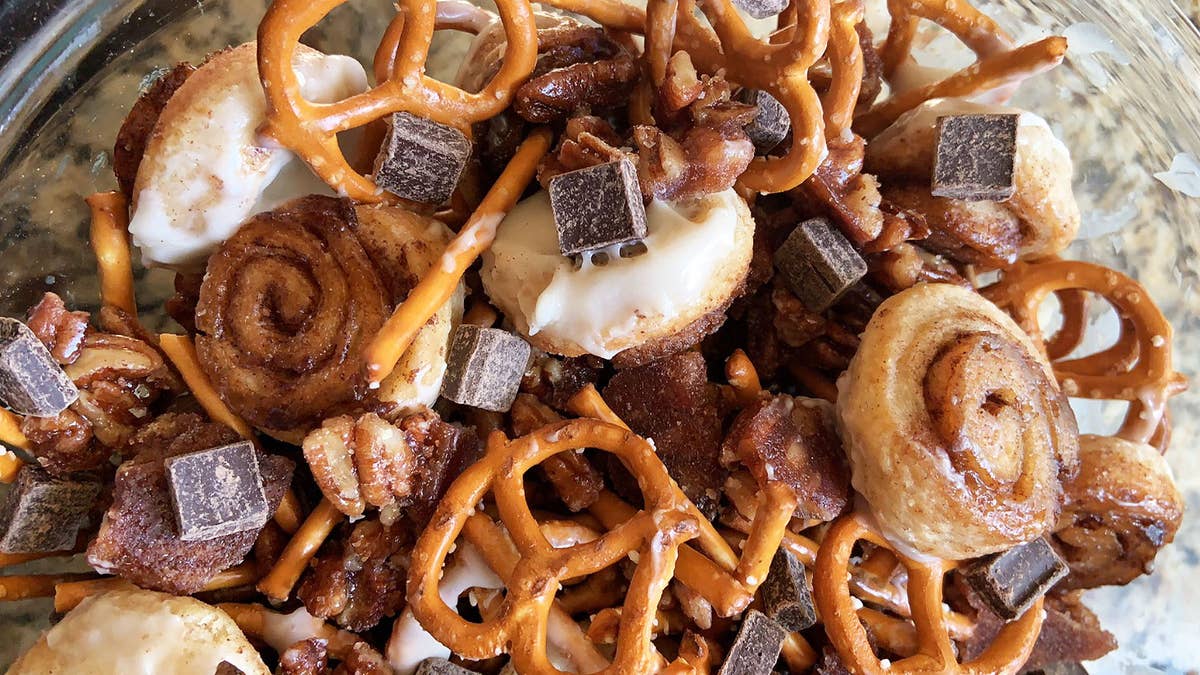 Ingredients
for 4 servings
Mini Cinnamon Rolls
nonstick cooking spray, for greasing
1 cup all purpose flour

(125 g)

, plus more for dusting
2 tablespoons granulated sugar
2 teaspoons baking powder
½ teaspoon ground cinnamon
½ teaspoon kosher salt
2 tablespoons unsalted butter, room temperature
½ cup whole milk

(120 mL)
Cinnamon Sugar Filling
1 tablespoon ground cinnamon
½ cup brown sugar

(110 g)

4 tablespoons unsalted butter, room temperature
Candied Pecans
1 cup granulated sugar

(200 g)

½ cup water

(120 mL)

½ teaspoon ground cinnamon
2 cups pecan

(250 g)

flaky sea salt, for sprinkling
Cream Cheese Glaze
½ cup powdered sugar

(55 g)

2 oz cream cheese

(55 g)

, room temperature
2 tablespoons unsalted butter, room temperature
½ teaspoon vanilla extract
Snack Mix
1 cup pretzel stick

(60 g)

1 cup tiny twists pretzels

(60 g)

½ cup semisweet chocolate chip

(85 g)
Nutrition Info
Calories

821

Fat

25g

Carbs

148g

Fiber

18g

Sugar

89g

Protein

9g
Estimated values based on one serving size.
Preparation
Make the mini cinnamon rolls: Preheat the oven to 325°F (170°C). Grease a 24-cup mini muffin tin or a baking sheet with nonstick spray.
In a medium bowl, mix together the flour, sugar, baking powder, cinnamon, and salt. Add the softened butter and work into the dry ingredients with your hands or a fork until well incorporated. Add the milk and stir with a rubber spatula until the dough comes together, about 2 minutes.
Turn the dough onto a lightly floured surface and knead for 2 minutes, until it is no longer sticky but still holds its shape. Shape into a ball and place it back in the bowl. Cover with a damp paper towel or kitchen towel and let rest for 15 minutes.
Turn the dough onto a lightly floured surface and roll out to a ¼-inch-thick (6 mm)+ rectangle (about 6 x 7 inches -15 x 17 cm).
Make the cinnamon sugar filling: In a small bowl, stir together the cinnamon and brown sugar.
Spread the softened butter evenly over the dough. Sprinkle with the cinnamon sugar mixture.
Cut the dough into quarters. Tightly roll each quarter into a log. Trim off the uneven ends, then cut each log into roughly ½-inch pieces, 6 pieces per log. Place the miniature cinnamon rolls in the prepared muffin tin or arrange on the prepared baking sheet. If you have more pieces than space in your tin, place the remaining mini cinnamon rolls onto a prepared baking sheet or bake them in the muffin tin after the first batch bakes.
Bake the mini cinnamon rolls for 10–12 minutes, until they are just slightly browned on the outside. Let cool completely in the pan, about 10-15 minutes or until cool to the touch.
While the cinnamon rolls cool, make the candied pecans: Line a baking sheet with a silicone mat or parchment paper.
In a large saucepan, stir together the sugar, cinnamon, and water. Add the pecans, then the heat to medium-high and cook, stirring occasionally, for 10–12 minutes, or until the liquid has thickened to a dark syrup and the pecans are well coated. Pour onto the prepared baking sheet and sprinkle with flaky sea salt. Let cool for about 15 minutes, or until hardened, then break into bite-size pieces.
Make the cream cheese glaze: In a medium bowl, whisk together the powdered sugar, cream cheese, and butter until smooth.
Dip the mini cinnamon rolls in the glaze, then return to the pan or in a bowl.
Make the snack mix: In a large bowl, toss together the pretzel sticks, tiny twists pretzels, chocolate chips and candied pecans until well combined. Add the mini cinnamon rolls and toss to incorporate. The mix will keep in an airtight container in a cool, dry place for 3–5 days.
Enjoy!
Meal planning made easy with the Tasty app. Download now to see exclusive curated meal plans.