Mofongo Stuffing
Bring a piece of Puerto Rico to your Thanksgiving table this year. A mix of fried plantains, sausage, and bread, this mofongo stuffing might just steal the spotlight when it comes to your side dishes. Don't have a mortar and pestle? Use a metal or wooden bowl and the back of a wooden spoon to mash the garlic and plantains.
November 04, 2019
Total Time
2 hr 20 min
2 hr 20 min
Prep Time
25 minutes
25 min
Cook Time
1 hr 55 min
1 hr 55 min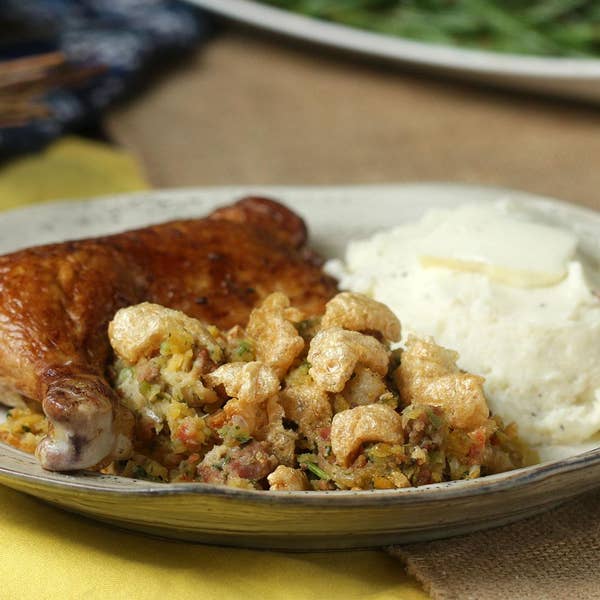 Total Time
2 hr 20 min
2 hr 20 min
Prep Time
25 minutes
25 min
Cook Time
1 hr 55 min
1 hr 55 min
Ingredients
for 12 servings
Mofongo
6 green plantains
cold water, for soaking
2 cups canola oil

(480 mL)

10 garlics, divided
5 tablespoons olive oil
3 tablespoons kosher salt, divided, plus more to taste
½ cup bacon

(110 g)

, chopped and grease reserved
1 bag chicharrónes, divided
20 oz longanisa

(560 g)

, casings removed, crumbled
4 cups white bread

(460 g)

, day old, torn, loosely packed
2 ½ cups chicken stock

(600 g)
Sofrito
1 medium white onion, cut into 1 in (2 1/2 cm) pieces
3 roma tomatoes, quartered
1 bunch fresh cilantro, washed, end trimmed
1 jalapeño, seeds and ribs removed, quartered
4 cubanelles, seeds and ribs removed, quartered
10 large cloves garlic, ends trimmed
Nutrition Info
Calories

815

Fat

55g

Carbs

68g

Fiber

43g

Sugar

24g

Protein

18g
Estimated values based on one serving size.
Preparation
Trim both ends of the plantains. Cut a slit through the skin down the length of the plantains. Cut each plantain in half crosswise and place in a bowl of cold water. Set aside to soak for 30 minutes (this will make the plantains easier to peel).
While the plantains soak, make the sofrito: In the bowl of a food processor, combine the onion, tomatoes, cilantro, jalapeño, cubanelle peppers, and garlic. Pulse 15–20 times, until the vegetables are completely broken down and the sofrito has the consistency of chunky salsa. Set aside.
In a large, high-walled skillet, heat the canola oil over medium-high heat until it reaches 350˚F (180°C). Line a baking sheet with paper towels and set nearby.
After soaking, peel the plantains and cut into 1–1 ½-inch ( 2 ½ cm) pieces. Blot dry with paper towels.
Working in batches, fry the plantains in the hot oil for 7 minutes, until crisp and beginning to brown. Transfer the plantains to the prepared baking sheet to drain.
Working in batches, add 1–2 cloves of garlic, 1 tablespoon of olive oil, and about ½ teaspoon of salt to a large mortar. Using the pestle, mash the garlic until it breaks down into a paste. Add about 7–8 fried plantain pieces, then use the pestle to mash the plantains and combine with the garlic paste. Add about 1½ tablespoons of bacon, along with some of the reserved bacon grease, and mash into the plantains. 7. Add about ½ cup (15 G) of the chicharrones and break up until evenly distributed throughout the mofongo. Transfer the mofongo to a large bowl and repeat with remaining ingredients.
Preheat the oven to 375˚F (190°C).
Heat a medium skillet over medium-high heat. Add the longaniza sausage to the hot pan and cook until the fat has rendered and the sausage is browned, 8–10 minutes.
Add the cooked sausage, along with the rendered fat, sofrito, torn bread, and chicken stock to the bowl with the mofongo. Stir well to combine, making sure all of the bread is moistened.
Transfer the mofongo stuffing to a lightly greased 9x13-inch (22 x 33 cm) baking dish and cover with foil.
Bake the stuffing for 30 minutes.
Remove the stuffing from the oven and increase the oven temperature to 400°F (200°C).
Top the stuffing with the remaining chicharrones and bake, uncovered for another 20–25 minutes, until the top is golden brown and beginning to crisp.
Remove the stuffing from the oven and let cool for 15 minutes before serving.
Enjoy!
Your favorite recipes are just a click away. Download the Tasty app to save and organize your favorites.