Nanaimo Bar Ice Cream Shake
Experience a Canadian classic with a twist in this Nanaimo Bar Ice Cream Shake! It's a creamy, dreamy delight that'll have you saying "eh" in the best way possible.
August 14, 2023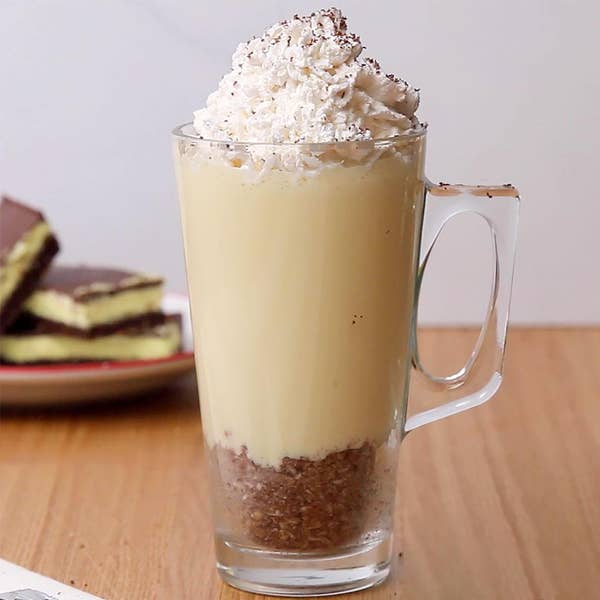 Ingredients
for 2 servings
Base:
¼ cup almond

(30 g)

, toasted and finely chopped
¼ cup unsweetened shredded coconut

(60 mL)

¼ cup graham cracker crumbs

(30 g)

2 tablespoons brown sugar
¼ cup butter

(55 g)

1 teaspoon cocoa powder
Chocolate garnish:
2 oz semi sweet chocolate

(55 g)
Milkshake:
2 cups vanilla ice cream

(280 g)

2 cups vanilla pudding

(340 g)

¼ cup milk

(60 mL)

, plus 2 tablespoons
8 dashes yellow food coloring
Garnish:
extra semi sweet chocolate, for shaving
whipped cream, for topping
This recipe isn't available to shop.
Unfortunately, not all our recipes can be shopped through Tasty.
Preparation
Start by making your chocolate garnish. Fill a pot with 2" of water and bring to a gentle simmer. Put the chocolate in a heat-resistant bowl, then place on top of the pot with the simmering water. With a spatula, stir the chocolate as it melts, then remove from the heat when fully melted. Stir for 30 seconds. Have a parchment-lined (or silicone mat) sheet tray prepared, then take a fork into the melted chocolate. Begin to swirl the chocolate onto the tray, using the fork, to create a circular and free-form shape. Repeat until you have created several shapes with all of the chocolate then transfer to the fridge. Allow to harden for at least 30 minutes.
While the garnish firms up, make the base. In a small pot, add the butter and the cocoa powder then heat over medium low. Allow the butter to melt completely, and fully incorporate with the cocoa. Once melted, add the butter and cocoa to a mixing bowl and add the almonds, coconut, graham crumbs and brown sugar. Set aside.
When ready to serve, add the ice cream, pudding, milk, and food colouring to a blender. Blend until fully incorporated. To serve, add the base to the bottom of your serving glass. Top with the milkshake, followed by some whipped cream, shaved chocolate and a piece of the hardened chocolate garnish. Use a spoon to enjoy the base, milkshake, and toppings all together then switch to a straw to slurp up the rest of the drink!
Enjoy!