New Orleans Seafood Filé Gumbo
If you're looking for an authentic Creole-Cajun meal, a warm bowl of gumbo is the perfect way to taste what the cuisine has to offer. This seafood filé gumbo recipe will be in your family for generations to come. Use the scraps from chopping the onion, bell pepper, okra, and celery for the gumbo to make the seafood stock.
February 23, 2022
Total Time
2 hr 50 min
2 hr 50 min
Prep Time
30 minutes
30 min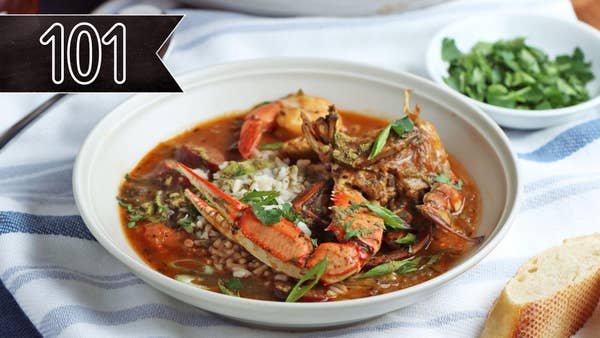 Total Time
2 hr 50 min
2 hr 50 min
Prep Time
30 minutes
30 min
Ingredients
for 4 servings
Seafood Gumbo Stock
1 tablespoon canola oil
3 blue crabs, wasged and halved crosswise
2 lb shrimp shells and heads

(910 g)

Bell pepper, onion, and celery scrap
1 green onion, halved crosswise
3 sprigs fresh italian parsley
3 sprigs fresh thyme
2 cloves garlic
2 dried bay leaves
1 teaspoon ground black pepper
13 cups water

(3 L)
Creole Seasoning
1 ½ tablespoons kosher salt
1 tablespoon ground white pepper
2 tablespoons freshly ground black pepper
1 tablespoon cayenne
1 tablespoon paprika
1 tablespoon garlic powder
1 tablespoon onion powder
¾ teaspoon dried thyme
¾ teaspoon dried oregano
Gumbo
8 tablespoons canola oil, divided
2 cups okra

(200 g)

, sliced
½ cup all purpose flour

(60 g)

1 medium yellow onion, chopped
1 medium bell pepper, seeded and chopped
2 stalks celery, chopped
4 cloves garlic, minced
2 dried bay leaves
1 lb smoked sausage

(425 g)

, sliced into 1/4 in (6 mm) thick rounds
6 blue crabs, washed and halved crosswise
5 sprigs fresh thyme
1 tablespoon worcestershire sauce
kosher salt, to taste
freshly ground black pepper, to taste
2 lb shrimp

(910 g)

, peeled, deveined, and rinsed
6 cups rice

(1.2 kg)

, cooked
3 tablespoons fresh italian parsley, chopped
¼ cup green onion

(10 g)

, sliced
1 teaspoon filé powder
Preparation
Make the seafood gumbo stock: In a heavy-bottomed 5-quart pot, heat the canola oil over medium heat. Once the oil is shimmering, add the crabs and cook until the shells turn bright orange, 2–3 minutes. Add the shrimp shells and heads and cook until the shells turn pink, 2–3 minutes more. Smash the crab and shrimp shells, similar to mashing potatoes, to release any juices.
Add the bell pepper, onion, and celery scraps, green onion, parsley, thyme, garlic, bay leaves, black pepper, and water. Bring to a gentle boil, then reduce the heat to medium-low and simmer for 30–35 minutes.
Strain the stock through a large fine-mesh sieve into a large bowl. You should have 12 cups. Set aside until ready to use in the gumbo (if not using immediately, the stock can be cooled, then stored in an airtight container in the refrigerator for 1–3 days).
Make the Creole seasoning: In a small bowl, whisk together the salt, white pepper, black pepper, cayenne, paprika, garlic powder, onion powder, thyme, and oregano until well combined.
Make the gumbo: Heat 6 tablespoons canola oil in a heavy-bottomed 6-quart pot over medium-high heat until faint wisps of white smoke come off the oil (if thicker, darker smoke appears, remove the pot from the heat and let cool for 3 minutes). Add the okra and fry for 2 minutes, until army-green in color. Use a slotted spoon to transfer the okra to a paper towel-lined plate to drain, leaving any remaining oil behind in the pot.
Add the remaining 2 tablespoons of oil to the same pot. Heat the oil over medium-high heat until faintly smoking again (do not let it overheat, or the flour will burn). Whisk in the flour to make a roux and cook, whisking constantly, until it turns a dark cocoa brown, 5–6 minutes. (If the roux is browning too quickly, remove the pot from the heat while continuing to stir and reduce the heat to medium-low.)
Reduce the heat to medium, then add the onion, bell pepper, celery, and 2 tablespoons of the Creole seasoning. Cook, stirring, for 2–3 minutes, until onions have softened. Add the garlic, bay leaves, and remaining Creole seasoning.
Increase the heat to medium-high heat. While whisking or stirring constantly to prevent lumps from forming, add the seafood gumbo stock, 4 cups at a time. Add the okra, smoked sausage, crabs, thyme, and Worcestershire sauce. Bring to a boil, then reduce the heat to low and simmer uncovered for 1 hour, skimming off any foamy flour residue that rises to the surface. The gumbo should thicken and reduce by one quarter.
Season the gumbo with the salt and pepper to taste, then add the shrimp. Remove the pot from the heat, cover, and let the residual heat cook the shrimp for 10 minutes.
Ladle the hot gumbo into bowls. Serve with rice and garnish with parsley, green onions, and filé powder, if using.
It's important to properly cool and store leftover seafood gumbo, otherwise it will spoil. Fill a clean 2-liter bottle or plastic juice jug with water and freeze until solid. Once finished eating, place the ice bottle in the pot of gumbo and let cool, stirring occasionally to release heat. Transfer the gumbo to an airtight container and refrigerate for up to 5 days. 11. The gumbo can also be frozen for up to 3 months.
Enjoy!
Cook smarter, not harder. Use our AI chef Botatouille on the Tasty app. Download now.