Old Fashioned Burger
This Old Fashioned-inspired burger features whiskey-caramelized onions, roasted orange mustard, and two smash burger patties. Serve with fresh beefsteak tomatoes and shredded iceberg lettuce on toasted burger buns.
March 15, 2023
Total Time
1 hr 30 min
1 hr 30 min
Prep Time
15 minutes
15 min
Cook Time
1 hr 5 min
1 hr 5 min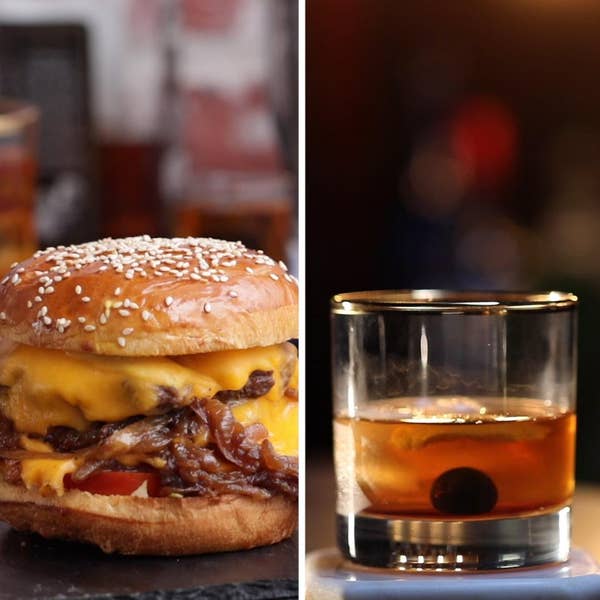 Total Time
1 hr 30 min
1 hr 30 min
Prep Time
15 minutes
15 min
Cook Time
1 hr 5 min
1 hr 5 min
Ingredients
for 4 servings
Whiskey-Caramelized Onions
4 tablespoons unsalted butter
1 ½ lb large yellow onions, thinly sliced into half-moons
⅓ cup rye whiskey

(80 mL)

1 teaspoon kosher salt
Roasted Orange Mustard
2 large navel oranges
¼ cup dijon mustard

(60 g)

¼ cup yellow mustard

(60 g)

1 teaspoon orange bitters
Smash Burgers
2 lb ground beef

(910 g)

2 teaspoons kosher salt
1 teaspoon freshly ground black pepper
1 teaspoon ground coriander
1 tablespoon olive oil
8 slices american cheese
Assembly
4 plain burger buns
1 large egg, beaten
1 tablespoon sesame seeds
1 cup shredded iceberg lettuce

(100 g)

8 slices beefsteak tomatoes
Included in this Recipe
The Classic Old Fashioned
Nutrition Info
Calories

1269

Fat

64g

Carbs

80g

Fiber

46g

Sugar

28g

Protein

79g
Estimated values based on one serving size.
Preparation
Make the whiskey-caramelized onions: In a large, high-walled skillet, melt the butter over medium-low heat. Add the onions and cook, stirring occasionally, until they caramelize and turn golden brown, about 45 minutes. Add the whiskey and salt and stir to combine. Remove the pan from the heat and let sit until ready to use.
Make the roasted orange mustard: Turn the broiler on high.
Use a sharp knife to remove the peel from the orange, then slice the orange crosswise into ½-inch-thick rounds. Arrange the rounds in a single layer on a baking sheet.
Broil the orange slices until they begin to brown and crisp on top, about 10 minutes.
Remove the oranges from the oven and transfer to a large bowl to cool slightly. Use a potato masher to mash the juice from the oranges, and then strain through a fine-mesh sieve, pressing on the flesh to extract as much juice as possible. You should have about ¼ cup of roasted orange juice.
In a medium bowl, whisk together the roasted orange juice, Dijon mustard, yellow mustard, and bitters until smooth. Refrigerate until ready to use.
Make the smash burgers: Reduce the oven temperature to 375°F (190°C).
Divide the ground beef into 8 4-ounce portions, being careful not to work the meat too much.
In a small bowl, mix together the salt, pepper, and coriander.
Heat a large cast-iron skillet over medium-high heat until nearly smoking. Pour the olive oil into the hot pan. Place 2 portions of ground beef, or as many as will fit without overcrowding, in the pan and use a flat metal spatula to flatten into patties. Use the back of a wooden spoon to press the spatula more firmly to flatten each patty even more. Season each patty generously with the salt mixture. Once the patties turn golden brown on the bottoms and the edges are crispy, about 2 minutes, flip and continue cooking until the other side is golden brown, about 2 more minutes. Top each patty with 1 slice of American cheese and let melt, about 30 seconds. Remove from the pan and repeat with the remaining ground beef.
Assemble the burgers: Place the intact burger buns on a baking sheet. Brush the top of each bun with beaten egg, then sprinkle with the sesame seeds. Transfer to the oven and bake until the egg wash turns golden brown, about 5 minutes.
Open the buns and place ¼ cup of shredded lettuce on each bottom bun, followed by 2 tomato slices, a patty, ¼ cup caramelized onions, and a second patty. Spread 2 tablespoons of the orange mustard over the undersides of the top buns, then place on top of the burgers. Serve with Old Fashioneds.
Enjoy!