Old-Fashioned Ice Tray Chocolates
Amp up your chocolate game with this impressive but easy ice tray hack! Sweet and creamy orange cream cheese filling is paired with a decadent whiskey-soaked cherry center, making this the perfect gift for any occasion. This content is intended solely for users of legal drinking age. Drink responsibly.
March 01, 2022
Prep Time
10 minutes
10 min
Cook Time
1 hr 35 min
1 hr 35 min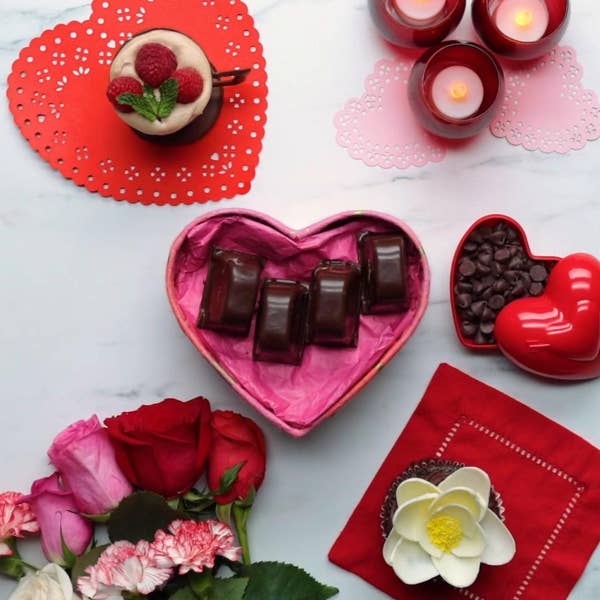 Prep Time
10 minutes
10 min
Cook Time
1 hr 35 min
1 hr 35 min
Ingredients
for 16 chocolates
14 maraschino cherries
2 tablespoons whiskey
½ teaspoon unsalted butter, room temperature
4 tablespoons cream cheese, room temperature
1 ¼ cups powdered sugar

(135 g)

1 orange, zested
10 oz dark chocolate melting wafers

(290 g)

1 teaspoon coconut oil, refined
7 teaspoons orange marmalade
Nutrition Info
Calories

309

Fat

9g

Carbs

58g

Fiber

4g

Sugar

52g

Protein

1g
Estimated values based on one serving size.
Preparation
Add the cherries and whiskey to a small container. Cover and let soak for at least 1 hour, or up to 2 days.
Add the butter and cream cheese to a medium bowl. Beat with an electric hand mixer on medium speed until light and fluffy, 1–2 minutes, scraping down the sides of the bowl as needed. Sift in the powdered sugar and beat on medium-low speed to incorporate. Add the orange zest and fold with a rubber spatula until incorporated. The mixture should be stiff. Cover with plastic wrap and chill in the refrigerator for 30 minutes.
Set a medium bowl over a small pot of simmering water. Add the dark chocolate and coconut oil to the bowl and warm for 4–5 minutes, until about two thirds of the chocolate is melted. Stir to melt the chocolate completely, then remove the bowl from the heat. Let cool for 5 minutes, until slightly thickened.
Pour about half of the melted chocolate into a clean 14-cavity ice cube tray, tilting the tray to create a thin, even layer around the walls of each mold. Pour any excess chocolate back into the bowl and wipe away any excess chocolate from the sides of the tray. Freeze for 15–30 minutes, until the chocolate is set.
Remove the cherries from the whiskey and drain on paper towels to remove excess moisture.
Fill each chocolate-lined ice cube mold with 1½ teaspoons of the orange-cream cheese filling. Use your finger to create a divot in the filling, then spoon ½ teaspoon of orange marmalade into the divot. Place a cherry in each divot, pressing down so the tops are below the rim of the tray.
Melt the chocolate again over simmering water if necessary, then pour over the ice cube tray, tilting to evenly distribute. Tap the tray on a flat surface to release any air bubbles and smooth the top. Freeze for 30–60 minutes, until set.
Remove the ice cube tray from the freezer and let sit at room temperature for 5 minutes to loosen the chocolates. Then, invert the tray to release the chocolates. Cut into individual chocolates and trim any messy edges with a paring knife. Serve immediately or store in the refrigerator for up to 1 week.
Enjoy!
Your favorite recipes are just a click away. Download the Tasty app to save and organize your favorites.