Pancake Parcels
Whip up a delightful breakfast surprise with these Pancake Parcels! Stuffed with your favorite fillings and drizzled with syrup, they're a scrumptious twist on a classic morning favorite.
May 04, 2023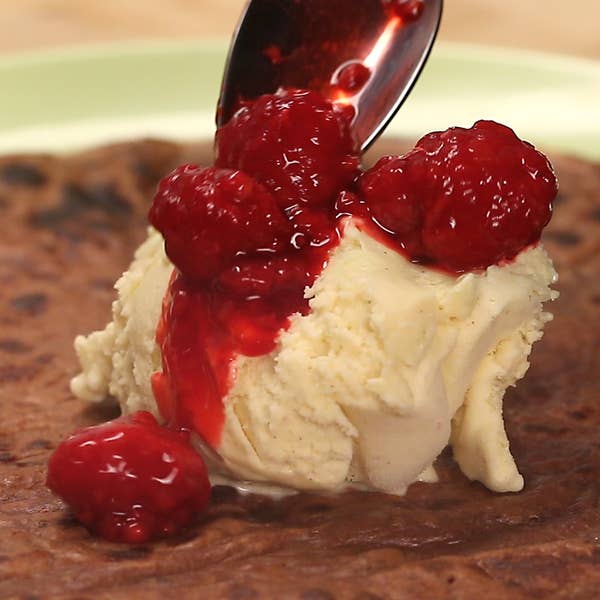 Ingredients
for 5 pancakes
⅘ cup flour

(100 g)

2 tablespoons cocoa powder
2 tablespoons icing sugar
salt, to taste
2 eggs
1 cup milk

(236 mL)

⅕ cup water

(50 mL)

2 tablespoons butter, for cooking
¾ cup frozen raspberry

(100 g)

vanilla ice cream, to taste
strawberry lace
Preparation
Sieve the flour, cocoa powder, icing sugar and salt into a large bowl
Make a well in the centre and whisk in the eggs
Combine the milk and water and slowly add it to the mixture while continuing to whisk.
Melt a small knob of butter in a large frying pan on a medium heat.
Spoon a ladle full of the mixture onto the pan and swirl it around to get a nice thin layer of batter.
Cook for approx. 2.5 minutes and flip the pancake once.
NOTE: You can go for it the cool way, or just use a spatula, we're not judging you. ;)
Cook further for 60 more seconds and remove from the heat.
Pour the frozen raspberries into a pot and cook, along with 3 tbsp of water on the lowest setting with the lid on for 5-6 minutes. (You can also use fresh raspberries with 5-6 tbsp of water.)
Spoon a dollop of ice cream into the center of the pancake, and pour over a few spoons of the raspberries.
Wrap the pancake up around the ice cream and use a strawberry lace to tie it all together.
Enjoy!
Cook smarter, not harder. Use our AI chef Botatouille on the Tasty app. Download now.