Pandan Pancakes
For a fun twist on pancakes, try adding some pandan extract–the vanilla-coconut tasting extract that has a natural green color! To take it up a notch, we topped our pandan pancakes with toasted coconut and stuffed them with homemade coconut custard for a sweet and creamy surprise!
May 10, 2021
Prep Time
1 hr 30 min
1 hr 30 min
Cook Time
30 minutes
30 min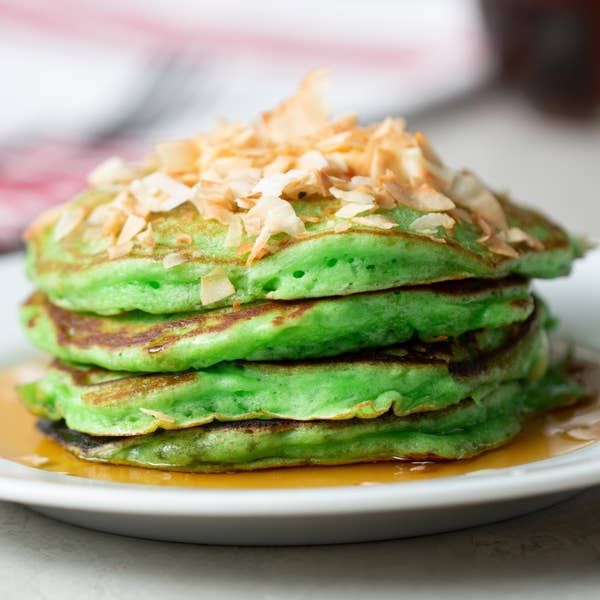 Prep Time
1 hr 30 min
1 hr 30 min
Cook Time
30 minutes
30 min
Ingredients
for 5 servings
Coconut Custard
5 large egg yolks, room temperature
⅓ cup sugar

(65 g)

3 tablespoons cornstarch
1 can unsweetened full fat coconut milk
1 teaspoon McCormick® vanilla extract
2 teaspoons coconut extract
Pandan Pancakes
3 cups buttermilk

(720 mL)

2 large eggs
1 teaspoon pandan extract
4 tablespoons unsalted butter, melted
2 cups all purpose flour

(250 g)

¼ cup sugar

(50 g)

2 teaspoons baking powder
1 teaspoon baking soda
½ teaspoon kosher salt
nonstick cooking spray, for greasing
For Serving
butter
maple syrup
toasted coconut flake
Nutrition Info
Calories

711

Fat

34g

Carbs

78g

Fiber

8g

Sugar

29g

Protein

23g
Estimated values based on one serving size.
Preparation
Make the coconut custard: In a medium bowl, whisk together the egg yolks, sugar, and cornstarch.
Pour the coconut milk into a small saucepan and bring to a simmer over medium-low heat.
Once the coconut milk is simmering, very slowly pour into the bowl with the egg mixture, whisking constantly to combine and temper the eggs.
Return the mixture to the saucepan over medium heat and cook, whisking constantly, until thickened, 2–3 minutes. Scrape the mixture into a clean medium bowl and whisk in the vanilla and coconut extracts.
Set the bowl over another bowl filled with ice water (make sure the water level is not so high that it gets into the custard) and let the custard cool for 10 minutes.
Line a baking sheet with parchment paper.
Once the custard has cooled, scoop onto the prepared baking sheet in 1-tablespoon discs, spacing evenly. You should have at least 20 custard discs. Transfer to the freezer for 90 minutes, until frozen.
Make the pancakes: In a medium bowl, whisk together the buttermilk, eggs, and pandan extract. Add the melted butter and whisk to combine.
In a large bowl, whisk together the flour, sugar, baking powder, baking soda, and salt.
Pour the wet ingredients into the dry ingredients. Mix until just combined, being careful not to over-mix; some lumps are okay. Let the batter rest for 5 minutes.
Heat a large nonstick skillet or a pancake griddle over medium-low heat and grease with nonstick spray. Pour ¼ cup of batter into the pan and cook the pancake halfway, about 2-3 minutes. Place a disc of frozen coconut custard in the center, cover the custard with about 1 tablespoon more batter and flip. Cook until golden brown, 2–3 minutes more. Remove from the pan and repeat with the remaining batter and coconut custard to make 20 pancakes total.
Serve with butter, maple syrup, and toasted coconut flakes.
Enjoy!
RECIPE BY: Mimo Ahmed
Don't just wing it -- plan it! Use our meal planner tool in the Tasty app. Download here.