Pear Butter Chicken And Waffles By ReShawn Wilder
A unique twist on traditional chicken and waffles, this version features fluffy, sweet waffles, topped with chunks of fresh pear simmered in a cinnamon- and nutmeg-spiced syrup, balanced with crispy lemon pepper chicken strips, and finished with a dollop of cinnamon whipped cream. Recipe by ReShawn Wilder of @Eyes_of_a_Foodie
July 07, 2020
Total Time
1 hr 30 min
1 hr 30 min
Prep Time
30 minutes
30 min
Cook Time
55 minutes
55 min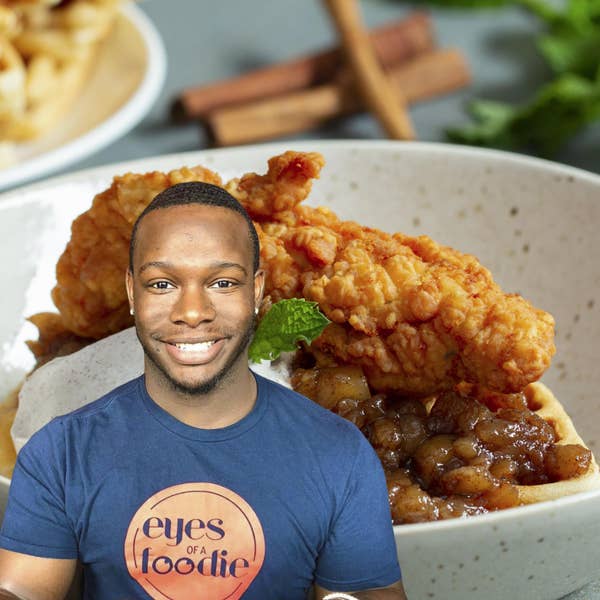 Total Time
1 hr 30 min
1 hr 30 min
Prep Time
30 minutes
30 min
Cook Time
55 minutes
55 min
Ingredients
for 4 servings
Pear Butter
3 barlett pears, peeled, cored, and cut into ½-inch(1.2 cm) cubes
½ cup water

(120 mL)

½ tablespoon cinnamon
½ teaspoon ground nutmeg
¼ teaspoon ground allspice
¼ teaspoon ground cloves
¾ cup sugar

(150 g)
Waffles
2 cups all purpose flour

(250 g)

½ cup sugar

(100 g)

¼ teaspoon kosher salt
4 teaspoons baking powder
½ cup vegetable oil

(120 mL)

¾ cup heavy cream

(180 mL)

1 cup milk

(240 mL)

1 tablespoon vanilla extract
2 large eggs, beaten
nonstick cooking spray, for greasing
Whipped Cream
1 cup heavy cream

(240 mL)

1 teaspoon cinnamon
1 ½ tablespoons powdered sugar
fresh mint sprig, for garnish
Chicken
6 cups neutral oil

(1.4 L)

, such as vegetable oil, for frying
4 boneless skinless chicken breasts, cut into 2-inch (5 cm) wide strips
1 ½ teaspoons lemon pepper
1 ½ teaspoons kosher salt
1 teaspoon Ac'cent® seasoning
1 ½ cups all purpose flour

(185 g)
Preparation
Make the pear butter: Add the pears, water, cinnamon, nutmeg, allspice, cloves, and sugar to a medium saucepan and stir to coat the pears. Bring to a simmer over medium-high heat, then reduce the heat to medium-low and cook, stirring occasionally, until the pears are tender, 35–40 minutes. Remove the pot from the heat. Using a potato masher, mash the pears until broken down to the consistency of a chunky applesauce. Set aside.
Make the waffles: Preheat a waffle iron according to the manufacturer's instructions.
In a large bowl, whisk together the flour, sugar, salt, baking powder, oil, cream, milk, and vanilla until smooth. Mix in the beaten eggs.
Ladle a scant ½ cup (55 G) of the waffle batter per waffle into the preheated waffle iron. Cook for 3–4 minutes, or until golden brown and cooked through. Repeat with the remaining batter. Keep the waffles warm in a low-heated oven until ready to use.
Make the whipped cream: Add the heavy cream, cinnamon, and powdered sugar to a large bowl. Whip with an electric hand mixer on medium speed until stiff peaks form, about 2 minutes. Refrigerate until ready to use.
Make the chicken: Heat the vegetable oil in a large, high-walled skillet over medium-high heat until it reaches 350°F (180°C).
In a large bowl, season the chicken with the lemon pepper, salt, and Ac'cent seasoning, tossing to coat well. Add the flour to a medium bowl. Dredge the chicken in the flour, shaking off any excess.
Working in batches, gently lower the chicken into the hot oil and fry until golden brown, 6–8 minutes, or until the internal temperature reaches 165°F (75°C). Remove from the oil using tongs or a slotted spoon and transfer to a paper-towel lined plate to drain while you fry the remaining chicken.
Cut the waffles into triangles and arrange 3 on each plate. Top with 2 tablespoons of pear butter, 3 fried chicken strips, and a dollop of whipped cream. Garnish with a sprig of mint.
Enjoy!
Busy? Plan your meals for the week using our exclusive meal planner tool in the Tasty app. Download now and get organized.