Pepper Pot Shrimp
This scrumptious Pepper Pot Shrimp is a world of flavor! It's a delightful blend of succulent shrimp, vibrant bell peppers, and a mouthwatering sauce that'll have you coming back for seconds.
May 04, 2023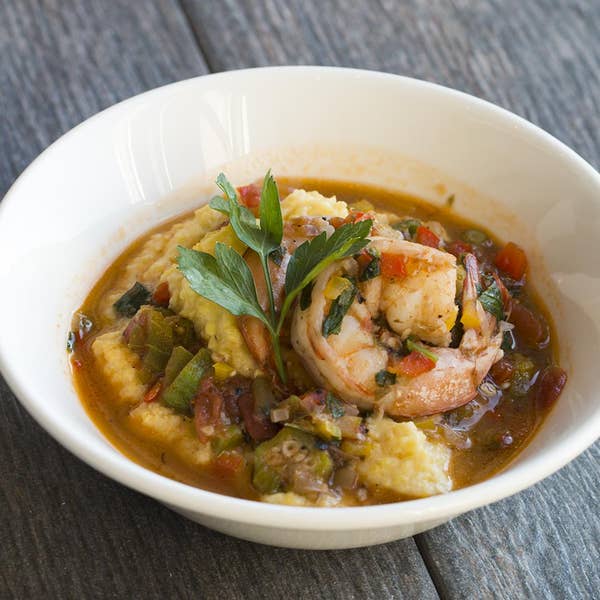 Ingredients
for 6 servings
Grits
4 cups chicken stock

(945 mL)

4 cups whole milk

(945 mL)

½ cup butter

(115 g)

2 teaspoons salt
2 cups cornmeal

(280 g)
Pepper Pot Shrimp
2 tablespoons oil
4 cloves garlic, minced
1 red bell pepper, diced
1 yellow bell pepper, diced
1 green bell pepper, diced
½ large red onion, diced
½ scotch bonnet pepper
12 spears okra, chopped
1 large tomato, diced
½ cup chicken stock

(120 mL)

2 tablespoons jerk seasoning
10 jumbo shrimps, peeled and deveined
2 teaspoons salt
1 teaspoon sugar
2 bunches fresh italian parsley, chopped to serve
Preparation
In a heavy pot, add the chicken stock, butter, and milk, and bring to a simmer over medium heat. Gradually add in the grits a little at a time, stirring until creamy. Remove from the heat.
Add oil to a large pan over medium-high heat.
Once the oil begins to shimmer, add the garlic and cook until aromatic, about 30 seconds.
Add in the red bell pepper, yellow bell pepper, green bell pepper, red onion, and Scotch bonnet pepper, and cook until onions are translucent.
Add in the okra and cook for 1 minute.
Add in the diced tomatoes and juices, jerk spice, and chicken stock, and simmer on low heat for 10 minutes.
Season the stew with salt and sugar.
Place shrimp on top of the okra stew. After two minutes, flip the shrimp and cook for 1-2 minutes, until cooked through. Sprinkle the stew with chopped parsley.
Serve the shrimp stew over the grits.
Enjoy!
Love this recipe? Download the Tasty app to save it and discover others like it.