Pizza Cordon Bleu
This recipe takes your favorite pizza flavors and fuses them with the method for chicken cordon bleu, resulting in a crispy, cheesy main dish that's sure to please even the pickiest eaters. Make sure to wrap the chicken rolls tightly before chilling, which will help them keep their shape during the frying process.
August 06, 2019
Total Time
1 hr 10 min
1 hr 10 min
Prep Time
25 minutes
25 min
Cook Time
15 minutes
15 min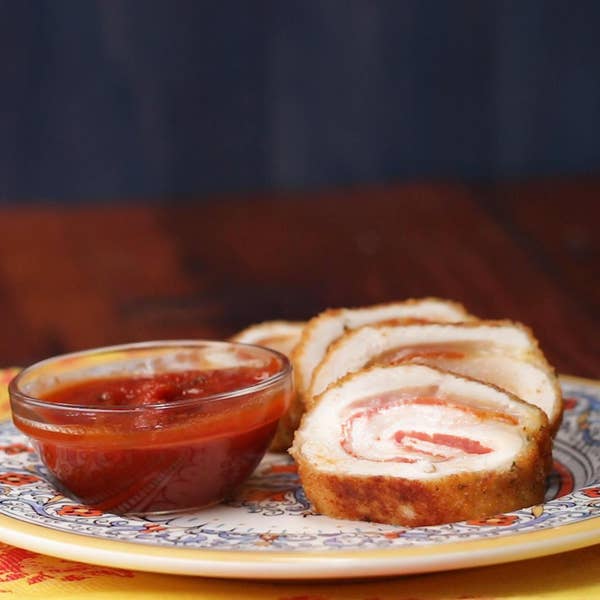 Total Time
1 hr 10 min
1 hr 10 min
Prep Time
25 minutes
25 min
Cook Time
15 minutes
15 min
Ingredients
for 4 rolls
4 chicken breasts
1 teaspoon kosher salt
½ teaspoon red pepper flakes
1 teaspoon garlic powder
1 teaspoon onion powder
½ teaspoon dried oregano
8 slices mozzarella cheese
32 pepperoni slices
2 cups canola oil

(480 mL)

1 cup all purpose flour

(125 g)

3 large eggs, beaten
1 cup italian bread crumbs

(115 g)

½ cup grated parmesan cheese

(55 g)

1 cup marinara sauce

(260 g)

, warmed
Preparation
Season the chicken breasts with the salt, red pepper flakes, garlic powder, onion powder, and oregano, tossing to coat evenly.
On a cutting board, place a chicken breast between 2 sheets of plastic wrap and pound to about ½-inch (1-centimeter) thick with a meat mallet, rolling pin, or heavy pan.
Remove the plastic wrap and place 2 slices of mozzarella and 8 pepperoni slices on top of the chicken.
Starting from a short end, evenly roll up the chicken, tucking the cheese and pepperoni inside, then wrap the chicken in the plastic wrap tightly and use the excess plastic on the sides to twist, firming up the chicken roll. Tie the excess plastic to secure. Repeat with the remaining chicken, mozzarella, and pepperoni.
Chill the chicken rolls in the refrigerator for 30 minutes.
Meanwhile, in a large high-walled skillet, heat canola oil until it reaches 325°F (170°C).
Add the flour, eggs, and bread crumbs to 3 separate shallow dishes. Add the Parmesan cheese to the bowl with the bread crumbs and stir to combine.
Unwrap the chicken rolls and coat in the flour, then the egg, then the bread crumb mixture.
Fry the chicken rolls in the hot oil for about 5 minutes per side, or until the outside is an even golden brown and the internal temperature reaches 165°F (75°C). If a good color is achieved but the chicken is not cooked through, transfer to a wire rack set over a baking sheet and finish the chicken 10. in the oven at 325°F (170°C) until the proper temperature is reached.
Slice the chicken rolls into medallions, then serve with the warm marinara sauce alongside.
Enjoy!
All your favorite recipes, stored in one place. Download the Tasty app and never lose a recipe again.