Poblano Black Bean Quesadilla With Spicy Crema
March 08, 2023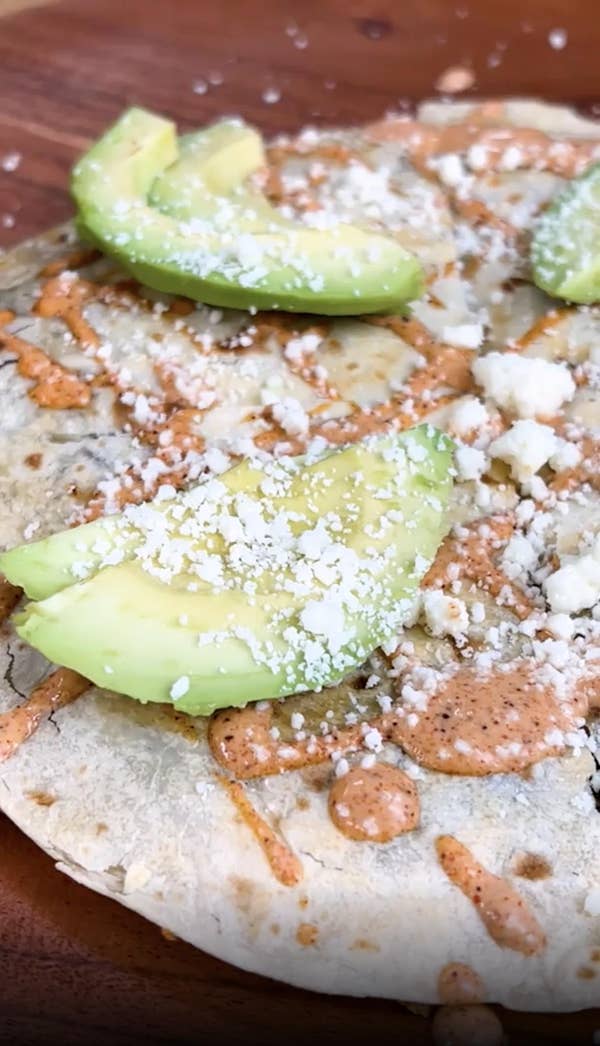 Ingredients
for 4 servings
Black Bean Mash
2 tablespoons olive oil
¼ small white onion, chopped
1 poblano pepper, finely diced
1 jalapeño, finely chopped
15 oz black beans

(415 g)

, drained and rinsed
1 teaspoon kosher salt
½ teaspoon freshly ground black pepper
¼ teaspoon Mccormick® ground cumin
Spicy Crema
⅓ cup mexican crema

(80 g)

½ teaspoon agave nectar
1 teaspoon McCormick® Smoked Paprika
1 teaspoon McCormick® Chipotle Chile Powder
¼ teaspoon McCormick® Garlic Powder
¼ teaspoon kosher salt
½ lime, juiced
1 ½ tablespoons Cholula® Hot Sauce
Quesadillas
8 10-inch flour tortillas
2 ½ cups shredded monterey jack cheese

(250 g)

avocado, sliced, for garnish
crumbled cotija cheese, for garnish
This recipe isn't available to shop.
Unfortunately, not all our recipes can be shopped through Tasty.
Preparation
Make the black bean mash: In a medium skillet, heat the olive oil over medium-low heat until it shimmers. Add the onion, poblano, and jalapeño and sauté until tender, about 5 minutes. Add the black beans salt, black pepper, and McCormick® Ground Cumin and mix to combine. Mash the beans until slightly chunky. Remove the pan from the heat.
Meanwhile, make the spicy crema: In a small bowl, stir together the Mexican crema, agave, McCormick® Smoked Paprika, McCormick® Chipotle Chile Powder, McCormick® Garlic Powder, salt, lime juice, and Cholula® Hot Sauce until smooth. Refrigerate until ready to use.
Make the quesadillas: Heat a large skillet over medium-high heat. Place a tortilla on the pan and sprinkle with an eighth of the Monterey Jack cheese (about 5 tablespoons). Top with a quarter of the black bean mash, then another eighth of the cheese. Cover with another tortilla and press down to flatten. Cook for 1–2 minutes, or until the cheese has melted on the bottom tortilla. Flip over and cook for another 1–2 minutes, or until the rest of the cheese has melted. Remove the quesadilla from the pan and place on a baking sheet, then keep warm in a low oven while you repeat with the remaining ingredients to make 3 more quesadillas.
Cut the quesadillas into wedges and arrange on a serving platter or plates. Drizzle with the spicy crema, then top with sliced avocado and cotija cheese.
Enjoy!