Prawn Paste Chicken (Har Cheong Gai)
This recipe for Prawn Paste Chicken will have you dreaming of travelling to Singapore soon!
September 14, 2020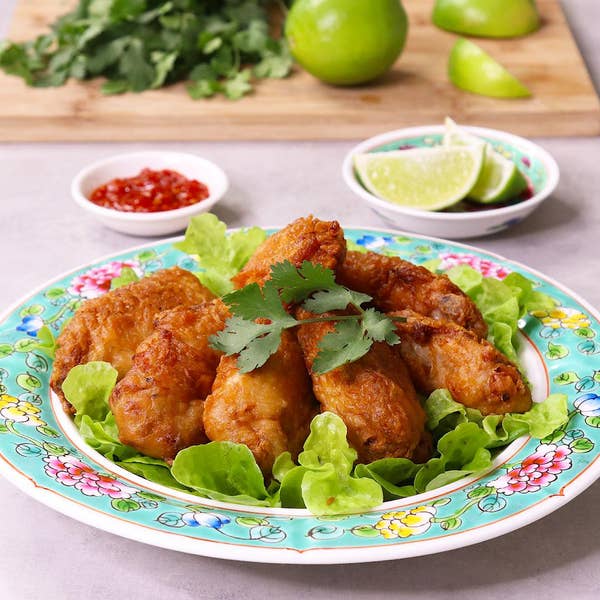 Ingredients
for 4 servings
12 chicken mid wings
2 tablespoons shrimp sauce
1 tablespoon oyster sauce
2 tablespoons sugar
1 tablespoon sesame oil
3 tablespoons chinese wine
1 teaspoon white pepper
1 teaspoon salt
Batter
1 cup plain flour

(125 g)

1 cup potato starch

(120 g)

½ teaspoon bicarbonate of soda
¼ teaspoon baking powder
2 eggs
1 cup water

(200 mL)
This recipe isn't available to shop.
Unfortunately, not all our recipes can be shopped through Tasty.
Preparation
In a large mixing bowl, add chicken wings, shrimp sauce, oyster sauce, sugar, sesame oil, Chinese wine, white pepper and salt. Stir to combine, ensuring each wing is coated evenly, then cover in cling film and allow to rest in the fridge for up to 2 days.
In another large mixing bowl, combine plain flour, potato starch, bicarbonate of soda, baking powder, eggs and water. Whisk until fully combined, the mixture should be runny but thick enough to hold on the surface of a spoon.
Add oil to a wok over medium heat and bring up to temperature.
Once the wings have had time to marinade, remove from the fridge then dip in batter. Place the battered wings in the oil in batches of 4 and cook for 3-4 minutes until the coating crisps up and turns a golden brown. Be sure to test the chicken to make sure it's cooked all the way through.
Repeat the frying process until all wings are cooked.
Plate up and serve with a squeeze of lime juice.
Enjoy!