Pretzel Cheddar Apple Pie
For this special apple pie, the pie crust has crushed Snyder's of Hanover® Pretzel Snaps and sharp white cheddar cheese. The crust is placed in the pie dish, and the apple filling is layered in. For our top crust, we create a lattice design with gaps. Once the pie is baked until golden brown, those gaps are filled with more Snaps!
August 14, 2023
Total Time
3 hr 40 min
3 hr 40 min
Prep Time
40 minutes
40 min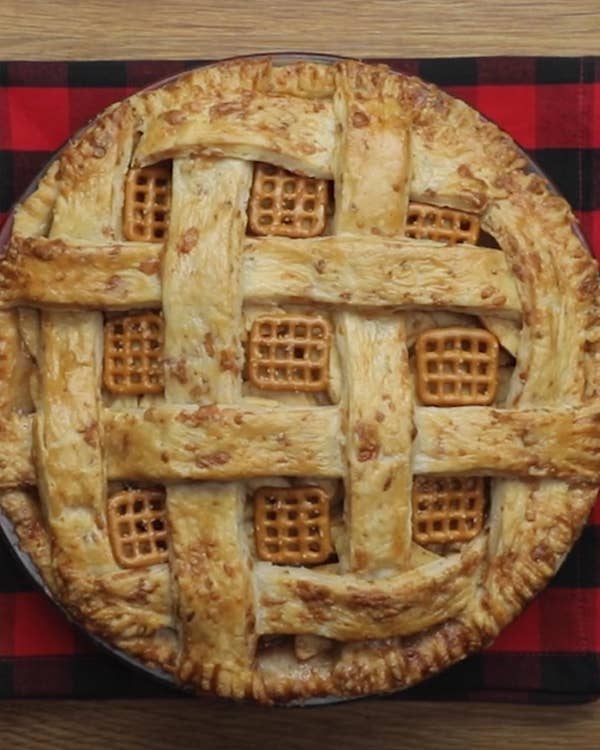 Total Time
3 hr 40 min
3 hr 40 min
Prep Time
40 minutes
40 min
Ingredients
for 1 pie
Pie Crust
2 ½ cups all-purpose flour

(310 g)

2 teaspoons granulated sugar
1 teaspoon kosher salt
1 cup unsalted butter

(230 g)

, chilled and cubed
½ cup ice water

(120 mL)

1 cup shredded sharp white cheddar cheese

(100 g)

¼ cup Snyder's of Hanover® Pretzel Snaps

(30 g)

, finely crushed
1 large egg
1 tablespoon milk
Apple Filling
8 large fuji apples, peeled, cored, and sliced 1/4-inch-(6mm-)thick
½ cup granulated sugar

(100 g)

3 tablespoons tapioca flour, or cornstarch
1 ½ teaspoons ground cinnamon
¼ teaspoon ground allspice
¼ teaspoon ground cloves
¼ teaspoon ground nutmeg
⅓ cup shredded sharp white cheddar cheese

(35 g)

30 Snyder's of hanover® pretzel snaps, plus more for topping
This recipe isn't available to shop.
Unfortunately, not all our recipes can be shopped through Tasty.
Preparation
Make the pie crust: Add the flour, sugar, and salt to a large bowl and whisk to combine. Add the butter to the flour mixture and use your fingers to break the butter down into pea-sized pieces. Add the ice water, a few tablespoons at a time, and mix until the dough comes together. Add the shredded white cheddar and crushed Snyder's Pretzel Snaps and gently fold to incorporate.
Divide the dough into two equal discs, wrap in plastic wrap, and refrigerate for 2 hours.
Make the apple filling: In a large bowl, combine the apples, sugar, tapioca flour, cinnamon, allspice, cloves, nutmeg, and white cheddar and mix to combine.
Preheat the oven to 400°F (200°C).
Once the dough is chilled, roll one disc out to a 12-inch round, about ¼ inch thick. Carefully transfer to a 9-inch pie dish. Cut away any excess dough around the edges.
Scoop the apple filling into the bottom pie crust.
Roll the remaining disc of dough out into a large rectangle, about 10 inches long. Cut into 1-inch-wide strips.
Arrange the strips on top of the pie in a lattice pattern, leaving large gaps between each strip.
In a small bowl, whisk together the egg and milk. Brush a thin layer of egg wash over the pie crust.
Place the pie dish on a baking sheet to catch any drips, then transfer to the oven and bake the pie for 25 minutes. Reduce the oven temperature to 375°F (190°C) and continue baking for another 30–35 minutes, or until the crust is golden brown and cooked through (you may need to cover the top crust with foil if it begins to brown too quickly).
Remove the pie from the oven and carefully place more Snyder's Pretzel Snaps over the filling between the gaps in the lattice crust. Let the pie cool completely before serving, about 1 hour. The pie can be made 1 day ahead of time and kept at room temperature until ready to serve.
Enjoy!