Pumpkin Pie: Roasted Can
Experience the magic of fall with this Pumpkin Pie Roasted Can, a delightful twist on a classic dessert. Savor the warm, spiced pumpkin flavors as they meld together in a cozy campfire setting.
May 04, 2023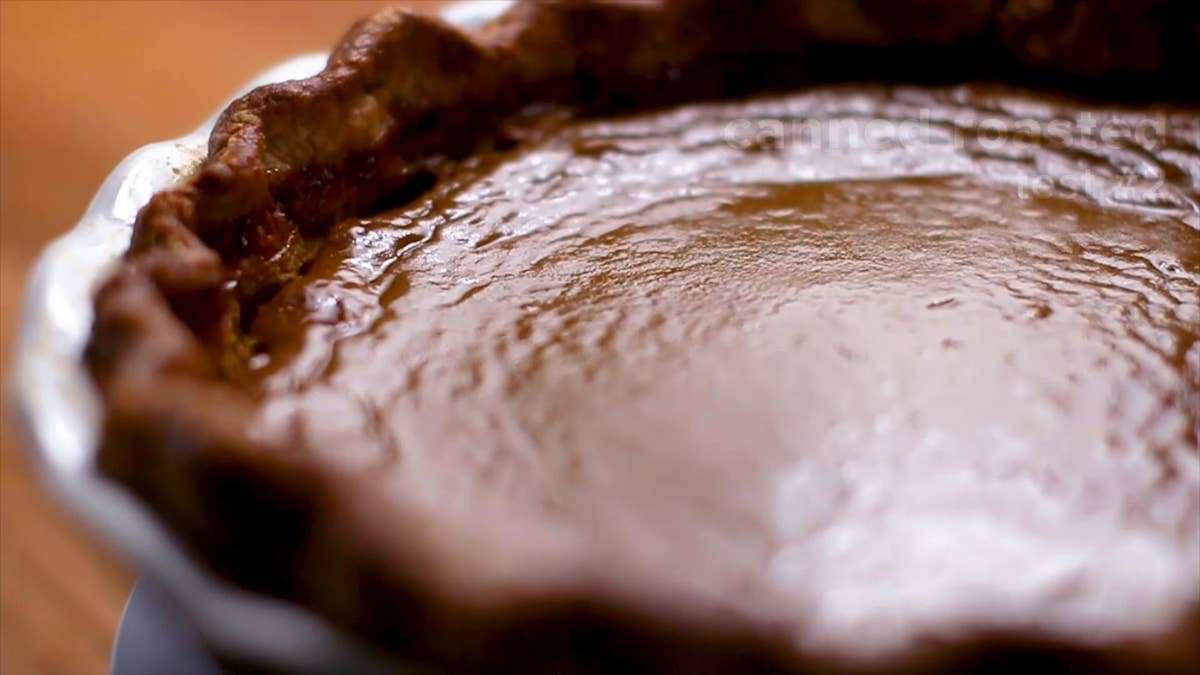 Ingredients
for 8 servings
1 premade pie crust, rolled out to 1/8 inch (3 mm) thick
Filling
24 oz unsweetened pumpkin puree

(680 g)

⅛ teaspoon cloves
1 teaspoon cinnamon
⅛ teaspoon allspice
¼ teaspoon ginger
¼ teaspoon nutmeg
½ teaspoon kosher salt
½ cup granulated sugar

(100 g)

½ cup dark brown sugar

(110 g)

1 teaspoon vanilla extract
3 large eggs
1 large egg yolk
1 ½ cups half & half

(360 mL)

egg wash
Nutrition Info
Calories

307

Fat

15g

Carbs

37g

Fiber

3g

Sugar

22g

Protein

7g
Estimated values based on one serving size.
Preparation
Preheat the oven to 350˚F (180˚C).
Gently lay the rolled-out pie crust in a 10-inch (25-cm) pie dish. Trim the excess dough around the sides.
Tuck the dough under the edge, and crimp the edges using the index finger knuckle on one hand and the thumb and index finger on your other hand. Chill in the refrigerator for 14-20 minutes.
Make the filling: Add the pumpkin puree, cinnamon, allspice, cloves, ginger, nutmeg, and salt to a medium bowl and mix until combined.
Spread the pumpkin puree mixture onto a baking sheet in an even layer. Bake for 12-15 minutes, until it looks slightly dried out.
Increase the oven temperature to 400˚F (200˚C).
Scrape the puree into a large bowl and add the granulated sugar, dark brown sugar, vanilla, eggs, egg yolk, and half-and-half. Whisk until smooth and well combined.
After chilling the crust, crumple a piece of parchment paper, then spread it out in the center of the crust. Add dried chickpeas or baking beans to the center and spread toward the sides of the crust--this will add weight to keep the crust from puffing up and hold up the walls.
Bake the crust for 15-20 minutes, until slightly golden and there are no raw doughy spots.
Increase the oven temperature to 425˚F (220˚C).
Pour the filling into the prebaked crust. Brush the edges of the crust with egg wash.
Bake the pie for 15 minutes, then reduce the oven temperature to 350˚F (180˚C) and continue to bake for 30-35 minutes more, until the edges are set but the center still jiggles slightly when shaken.
Let cool at room temp for at least 2 hours, or in the fridge overnight.
Slice and serve.
Enjoy!
Cook smarter, not harder. Use our AI chef Botatouille on the Tasty app. Download now.