Red Bean-Stuffed Panda Buns
These steamed red bean-stuffed panda buns are almost too cute to eat! Fill all the buns with red bean paste, or experiment with your favorite fillings.
October 22, 2020
Total Time
2 hr 20 min
2 hr 20 min
Prep Time
30 minutes
30 min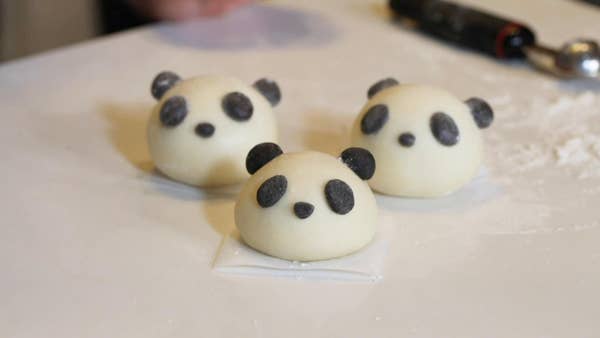 Total Time
2 hr 20 min
2 hr 20 min
Prep Time
30 minutes
30 min
Ingredients
for 12 servings
Dough
⅓ cup milk

(80 mL)

½ teaspoon yeast
2 tablespoons sugar
1 ¼ cups all purpose flour

(155 g)

black food coloring
water, for brushing
Filling
¾ cup red bean paste

(165 g)

, chilled
Nutrition Info
Calories

88

Fat

0g

Carbs

19g

Fiber

0g

Sugar

8g

Protein

2g
Estimated values based on one serving size.
Preparation
In the bowl of a stand mixer, stir together the milk, yeast, sugar, and flour with a rubber spatula until the dough starts to come together.
Fit the stand mixer with the dough hook and mix the dough on medium-high speed for 10 minutes, until smooth.
Cover the dough with a wet towel and let rest for 1 hour.
Pull off about 2 tablespoons of dough and roll into a ball, then roll out into a log. Fold the outer ends of the log inward to overlap the center, then roll out into a log again. Repeat 2–3 more times, until the dough is very smooth.
Press into a flat disc. Roll 1 tablespoon of red bean paste into a ball, then place in the center of the disc. Wrap the dough around the red bean paste to seal, then roll the bun into a ball and set on a small square of parchment paper. Repeat to make 12 total buns, leaving some excess dough for decorating.
Add a bit of black food coloring to another portion of dough and roll out the dough as before, until the color is uniform.
Use a finger to slightly dampen the outside of a bun. Decorate with 2 pieces of black dough for the ears, 2 pieces for the eyes, and 1 piece for the nose. Repeat with the remaining buns.
Let the buns rest for 30 minutes.
Meanwhile, fill the bottom of a steamer with water and bring to a simmer over medium heat. (If you don't have a steamer, fill a large pot with a bowl at the bottom with water, then place a plate on top of the bowl, making sure the water does not come over the edges of the plate.)
Add the buns to the steamer, leaving enough space for the buns to expand. Cover the pot and steam the buns for 9–10 minutes, or until the dough is cooked through. Turn off the heat and let the buns rest in the steamer for 5 minutes before serving.
Enjoy!
Don't just wing it -- plan it! Use our meal planner tool in the Tasty app. Download here.