Rib Eye Steak With Blue Cheese Compound Butter And Crispy Onion Strings
Elevate your thick, juicy steaks with a creamy blue cheese compound butter and fried onion strings. Basting your steaks with butter and herbs in the final minutes of cooking gives them that eye-catching color and crispy exterior you can't wait to cut into it. These small and easy additions will add so much flavor to your dish. You'll score extra points with that special someone with the pretty presentation, too.
June 11, 2019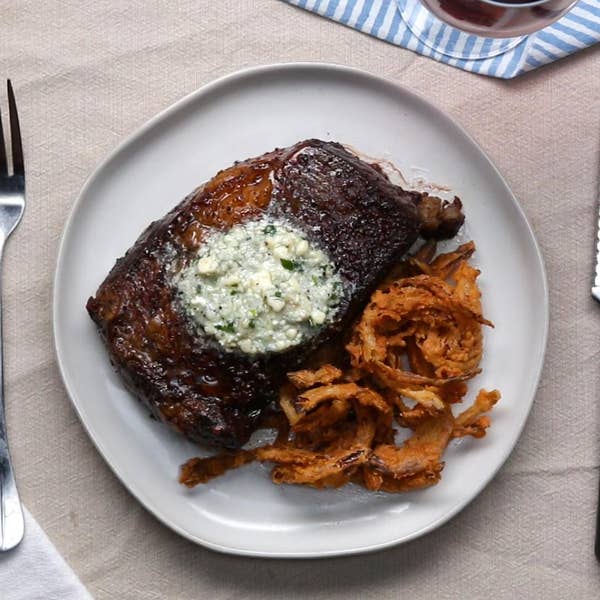 Ingredients
for 2 servings
Blue Cheese Compound Butter
1 cup unsalted butter

(125 g)

, room temperature
1 cup crumbled blue cheese

(115 g)

2 tablespoons chives, finely chopped
¼ teaspoon kosher salt
¼ teaspoon freshly ground black pepper
Fried Onions
½ medium yellow onion, thinly sliced
2 cups buttermilk

(480 mL)

2 cups all-purpose flour

(250 g)

1 teaspoon paprika
1 teaspoon kosher salt, plus more to taste
½ teaspoon freshly ground black pepper
4 cups canola oil

(960 mL)

, for frying
Steak
2 rib eye steaks, 1 1/2 in (3 cm)
1 tablespoon kosher salt
1 tablespoon freshly ground black pepper
2 teaspoons olive oil
2 tablespoons unsalted butter
5 sprigs fresh thyme
Preparation
Make the compound butter: In a medium bowl, mix together the butter, blue cheese, chives, salt, and pepper until well combined.
Transfer the butter to a piece of plastic wrap and roll into a log. Refrigerate for at least 1 hour, or until ready to use.
Make the fried onions: In a shallow bowl, combine the onions and buttermilk and let sit at room temperature for 1 hour.
In a medium bowl, whisk together the flour, paprika, salt, and pepper. Dip the buttermilk-coated onions into the flour mixture, shaking off any excess.
Fill a large skillet with high sides with the canola oil. Heat the oil over medium-high heat until it reaches 375˚F (190˚C). Once the oil is hot, add the onions in batches and fry for 3 minutes, until golden brown. Transfer the onions to a wire rack to drain and season with salt.
Generously season the steaks all over with salt and pepper.
Add the olive oil to a large cast-iron or stainless-steel pan over high heat. Once the oil begins to shimmer, add the steaks and cook, without disturbing, until a brown crust forms, about 7 minutes. Flip the steaks and continue to cook for 7 minutes more, until the steak is browned on both sides. Sear the sides of the steak to render any fat. Add the butter and thyme to the pan. Tilt the pan toward you and baste the steaks with the melted butter for 2 minutes, until the internal temperature reaches 135°F (60°C) for medium rare.
Serve the steak with the crispy onions and blue cheese compound butter.
Enjoy!
Cook smarter, not harder. Use our AI chef Botatouille on the Tasty app. Download now.