Roasted Butternut Squash Soup
This batch of creamy butternut-flavored soup is the perfect fall meal for you and your loved ones.
October 30, 2019
Total Time
2 hr 10 min
2 hr 10 min
Prep Time
20 minutes
20 min
Cook Time
1 hr 50 min
1 hr 50 min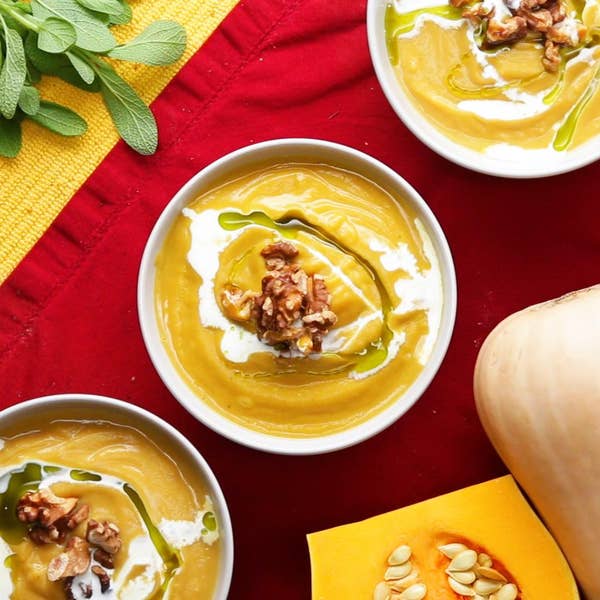 Total Time
2 hr 10 min
2 hr 10 min
Prep Time
20 minutes
20 min
Cook Time
1 hr 50 min
1 hr 50 min
Ingredients
for 8 servings
2 butternut squashes, peeled, seeded and cut into 2 in (5 cm) cubes
4 tablespoons olive oil, divided
2 ½ teaspoons kosher salt, divided
4 tablespoons unsalted butter, divided
1 large white onion, diced
4 cloves garlic, minced
1 tablespoon fresh sage, chopped
1 cup dry white wine

(240 mL)

8 cups vegetable broth

(1.9 L)

½ cup heavy cream

(120 mL)

, plus more for serving
½ cup walnuts

(50 g)

, toasted
8 teaspoons chive oil, for serving
Chive Oil
2 cups ice

(280 g)

8 cups water

(1.9 L)

, divided
½ oz fresh chives

(15 g)

¾ cup neutral oil

(180 mL)
Preparation
Preheat the oven to 400˚F (200°C).
In a large bowl, toss the butternut squash with 2 tablespoons of olive oil and 1 teaspoon of salt until well coated. Spread the squash in a single layer on an unlined baking sheet.
Roast the squash for 60–70 minutes, until completely tender and just beginning to brown on the edges.
Once the squash has been roasting for 40 minutes, start the soup: In a large stock pot, melt 2 tablespoons of butter and the remaining 2 tablespoons of olive oil over medium heat. Add the onion and season with 1 teaspoon of salt. Sauté for 8–10 minutes, until the onion is translucent and fragrant.
Add the garlic and sage and stir to combine. Sauté for another 8–10 minutes, until the onions are beginning to caramelize slightly. Add the white wine and cook for 2–4 minutes, until reduced by about half.
Add the squash to the pot, along with the vegetable broth. Increase the heat to medium-high and bring to a boil. Cover the pot and reduce the heat to medium-low. Simmer for 15–20 minutes, until the squash is completely broken down.
Remove the pot from the heat. Stir in the heavy cream and remaining 2 tablespoons of butter. Using an immersion blender, blend until the soup is completely smooth and creamy. Season with the remaining ½ teaspoon of salt, plus more to taste.
Ladle the hot soup into bowls. Top with the toasted walnuts, a drizzle of heavy cream, and a drizzle of chive oil.
To make the chive oil, combine the ice and 3 cups (720 ml) of water in a medium bowl. Set near the stovetop.
Add the remaining 3 cups (720 ml) of water to a small saucepan and bring to a simmer over medium-high heat. Add the chives to the simmering water and blanch for 30 seconds, then strain. Transfer the strainer directly to the ice bath to halt the cooking process. Let the chives cool for 1 minute, then drain on paper towels.
Add the chives and oil to a liquid measuring cup or other tall, narrow container. Using an immersion blender, blend until the chives are completely broken down. Do not overblend, as the chives can turn brown.
Place a damp paper towel inside a strainer and set over a medium bowl. Pour the chive oil through the strainer to remove any remaining solids.
Use the chive oil as desired. It will keep in an airtight container in the refrigerator for up to 3 months.
Enjoy!