This recipe was submitted by a Tasty Community Member, and hasn't been tested by the Tasty recipe team.

Have a recipe of your own to share?

Submit a recipe here!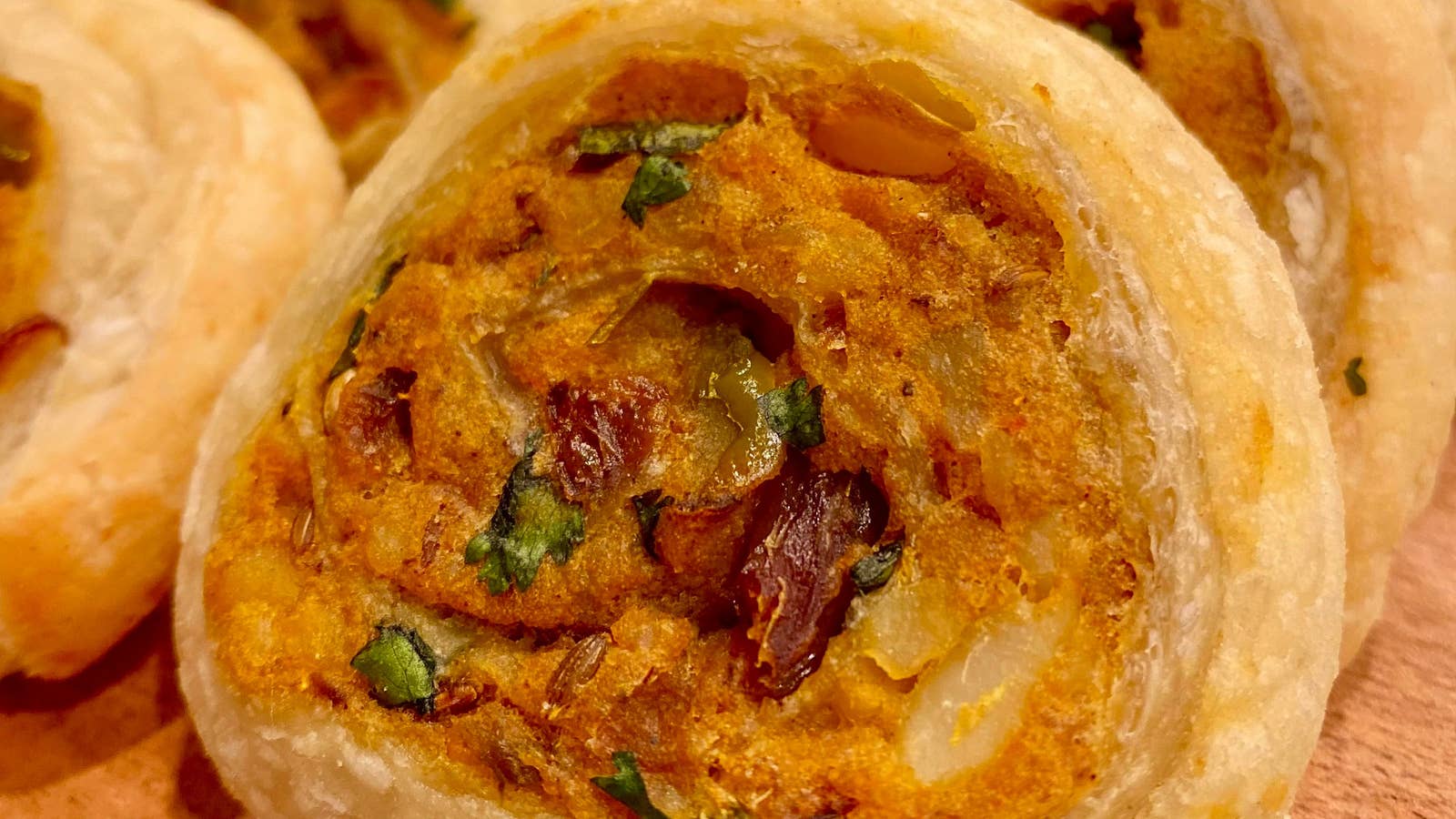 Ingredients
for 6 servings
puff pastry, store bought
4 large potatoes, Russet
1 large onion
3 green chili peppers, optional
½ green pepper
½ yellow pepper
1 bunch fresh cilantro
1 teaspoon turmeric powder
2 teaspoons coriander seeds
1 teaspoon cumin
1 teaspoon red chili powder
½ teaspoon asafetida
2 teaspoons coriander powder
2 teaspoons amchur powder
2 teaspoons chaat masala
salt, to taste
1 tablespoon oil
Nutrition Info
Estimated values based on one serving size.
Preparation
Defrost puff pastry according to package instructions.
Make stuffing:
Boil potatoes till fork tender. Let cool. Then, in a saucepan over medium heat, add oil.
When oil is hot, add roughly crushed coriander seeds, cumin, and asafetida. When cumin crackles, add onions and green chili peppers.
Let onions become translucent, then add the green and yellow peppers, followed by turmeric powder, and red chilly powder.
Let the vegetables sweat a little, roughly 4-5 minutes. Take the mix off the heat.
In a different bowl, peel and mash potatoes.
Add the onion-pepper mix to the boiled potatoes, and add rest of the spices and salt. Add cilantro. Mix well. The stuffing is ready.
To assemble:
Take one puff pastry sheet and roll it out a little.
Add the stuffing to half the side and roll it up like a barrel, making sure the edges are sealed. Use a little water (or egg) to help seal the edges.
Using dental flow (or sharp knife), cut discs from the barrel and lay them flat on your parchment lined baking sheet.
Repeat with another puff pastry sheet.
Bake in a preheated 400°F oven for 18-20 minutes.
Serve hot with chutneys of choice.