Sanjana's Momo
Get ready to dive into the world of Nepalese cuisine with Sanjana's scrumptious Momo recipe! These delightful dumplings are filled with a mouthwatering mixture of chicken and spices, perfect for a fun and flavorful appetizer or main course.
May 04, 2023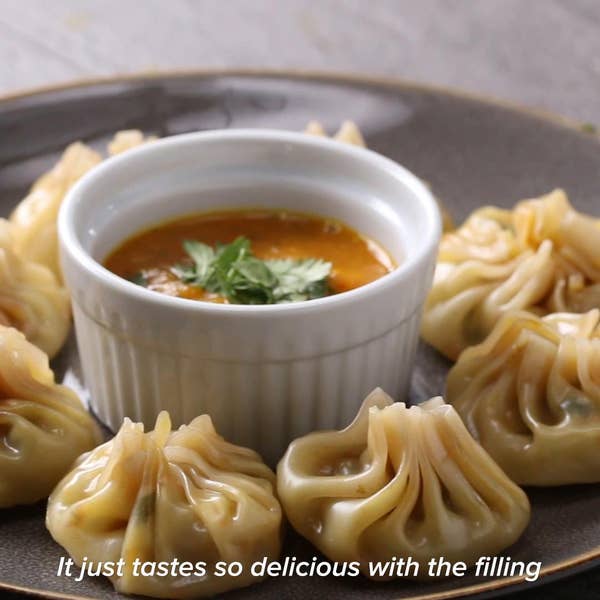 Ingredients
for 80 momo
Fillings
1 lb ground chicken

(455 g)

½ red onion, finely chopped
½ cup scallions

(50 g)

, finely chopped
½ cup fresh cilantro

(20 g)

, finely chopped
1 tablespoon garlic, minced
1 tablespoon ginger, grated
1 teaspoon turmeric
1 teaspoon red chili powder
1 teaspoon garam masala
2 tablespoons ghee, melted, or butter
2 tablespoons olive oil
80 small dumpling wrappers
napa cabbage, or parchment paper, to line the steamer
2 cups chutney

(640 g)

, optional
1 tablespoon olive oil
4 medium tomatoes, chopped
4 thai chilis, chopped
1 tablespoon garlic, minced
1 tablespoon ginger, grated
½ teaspoon turmeric
1 teaspoon szechuan pepper, or dried chilies
salt, to taste
2 tablespoons toasted sesame seeds
¼ cup fresh cilantro

(10 g)
Nutrition Info
Calories

327

Fat

2g

Carbs

64g

Fiber

2g

Sugar

2g

Protein

9g
Estimated values based on one serving size.
Preparation
Make the filling: In a large bowl, combine the ground chicken, red onion, scallions, cilantro, garlic, ginger, turmeric, chili powder, garam masala, ghee, and olive oil. Mix well with your hands.
Place a tablespoon of filling in the middle of a dumpling wrapper. Using your finger, lightly wet the outer rim with water.
Pinch the top of the wrapper, using your fingers to pleat and tighten as you close so it looks like a little pouch. Repeat with the remaining wrappers and filling.
Bring a large pot filled a third of the way with water to boil over high heat and top with a dumpling steamer basket. Line the basket with cabbage leaves. Steam the momos in batches for 12-15 minutes, until the wrapper becomes slightly translucent.
Make the dipping sauce: In a medium saucepan, heat the olive oil over medium heat. Add the tomatoes, thai chilies, garlic, ginger, turmeric, and Szechuan peppers. Season with salt. Cook, stirring occasionally, until the tomato is softened, for 5 minutes. Remove the pan from the heat, and let cool for 5-10 minutes.
Transfer the tomato mixture to a blender and add the sesame seeds and cilantro. Blend until smooth.
Serve the momos with the dipping chutney.
Enjoy!
Love this recipe? Download the Tasty app to save it and discover others like it.