90% would make again
School Lunch Prep For The Week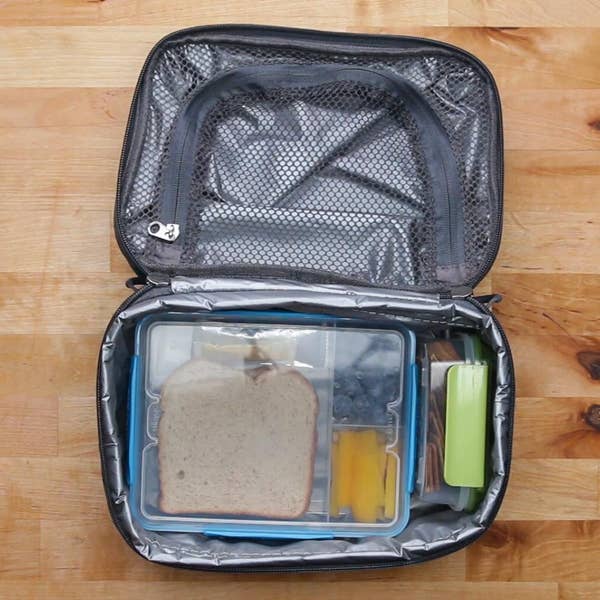 Ingredients
for 5 servings
Whole Wheat Sandwiches
whole wheat bread
mozzarella cheese, sliced
cheddar cheese, sliced
deli ham, sliced
deli turkey, sliced
condiment packet
Dry Snacks
wheat cracker
pretzel
2 cups cheese cracker

(125 g)
Wraps
whole wheat tortilla
lettuce, chopped
cheddar cheese, sliced
deli ham, sliced
mozzarella cheese, sliced
deli chicken, sliced
condiment packet
Sides
strawberry, sliced
blueberry
¼ cup grape

(25 g)

yellow bell pepper, sliced
carrot, sliced
red bell pepper, sliced
Nutrition Info
Estimated values based on one serving size.
Preparation
For the whole wheat sandwiches, assemble your desired combination of cheese and deli meat on slices of whole wheat bread. Pack the sandwiches in lunch containers with condiment packets.
For the wraps, place the lettuce and your desired assortment of cheese and deli meat on the whole wheat tortilla and wrap it closed. Cut the wrap in half and pack in lunch container with condiment packets.
For the dry snacks, store the wheat crackers, pretzels, and cheese crackers in individual snack containers. Store in the cupboard.
To assemble the lunch containers, fill with your desired assortments of sandwiches, wraps, fruit, and vegetables. Store in the fridge for up to 5 days.
To prepare for school in the morning, pack an insulated lunch container with one of the lunch containers, a snack container, and a bottle filled with your little one's favorite drink.
Enjoy!