95% would make again
Seared Duck Breast With Red Wine Jus And Orange, Olive Oil Mash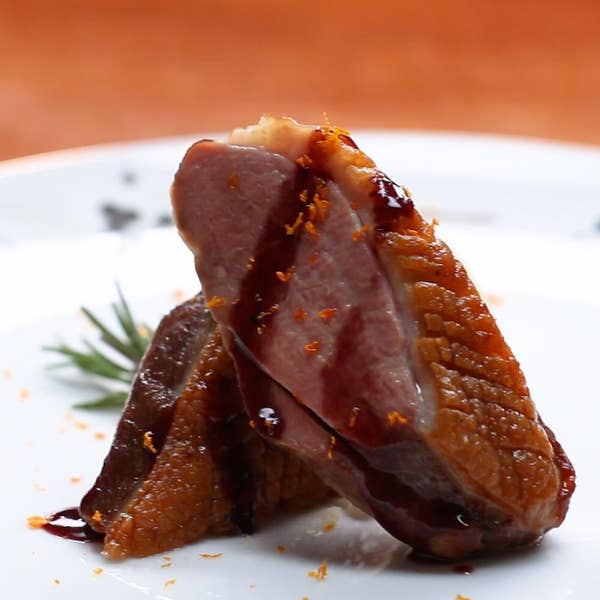 Ingredients
for 4 servings
Seared Duck Breast
4 duck breasts
4 teaspoons sea salt
4 teaspoons pepper
8 cloves garlic
4 sprigs fresh rosemary
Mashed Potato
1 ½ cups potato

(400 g)

2 teaspoons butter

(10 g)

1 oz milk

(20 mL)

orange zest, half an orange
1 tablespoon olive oil
1 teaspoon salt
1 teaspoon pepper
Red Wine Jus
½ teaspoon flour
½ cup red wine

(100 mL)

3 teaspoons cranberry sauce
2 teaspoons honey
1 orange, juice of
¼ cup chicken stock

(60 mL)

½ teaspoon salt
½ teaspoon pepper
orange zest, of half an orange, to serve
fresh rosemary, to serve
Nutrition Info
Estimated values based on one serving size.
Preparation
Preheat the oven to 180˚C (350˚F).
Lightly score the duck skin with a sharp knife. Make sure not to cut through to the flesh.
Season each side of the duck breast with 1 teaspoon of salt and pepper each.
Fry the duck breast skin side down on medium heat for 3 to 4 minutes with the garlic and rosemaries. Flip and fry the other side for 1 minute.
Put the duck breast in the oven for 6-8 minutes for medium rare; 10 minutes for medium well. Rest for 6 minutes before serving.
For the mashed potato, chuck all the ingredients in the boiled potato, mix well.
For the Red Wine Jus, use the pan you fried the duck breasts in. Take out the rosemary stalks, crush the garlic with a fork.
Fry the garlic for a minute or two on medium low heat. Add in the flour and fry for another minute or until all the fat in the pan have binded to the flour.
Add in the rest of the ingredients, mix well and keep simmering on a low heat for 10 minutes or until it becomes a glossy thick sauce.
To impress your guests with your presentation game, pipe the mashed potato with a piping bag into a golf ball size mound. Shape using the back of a spoon.
Place the duck breast, drizzle with the jus and decorate with orange zest and rosemary.
Enjoy!