Slow-Roasted Pork Ribs With Maple Bbq Sauce
These juicy and fall-off-the-bone pork ribs are coated in a sticky maple BBQ sauce that's both sweet and tangy. Perfect for a summer cookout or a cozy winter meal.
May 14, 2023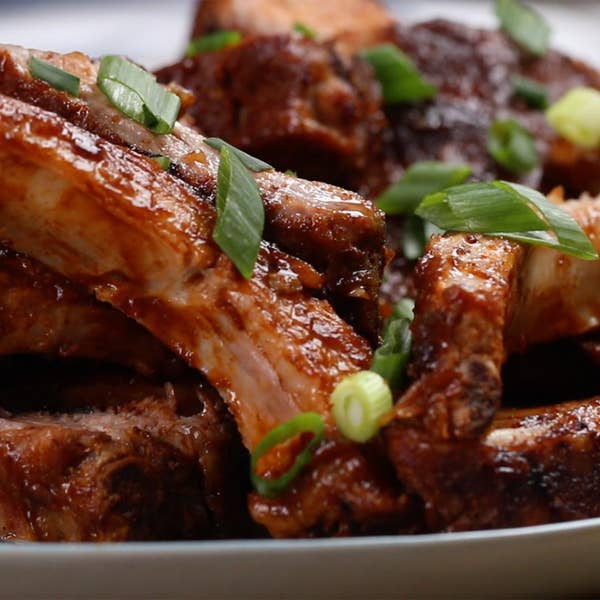 Ingredients
for 4 servings
5 lb pork spare ribs

(2.2 g)

1 tablespoon paprika
2 teaspoons coriander
1 teaspoon garlic powder
1 teaspoon onion powder
1 teaspoon brown sugar
1 teaspoon cinnamon
½ teaspoon chili flakes
Maple BBQ sauce:
3 tablespoons olive oil
1 onion, finely diced
3 cloves garlic, finely minced
1 cup ketchup

(240 g)

2 teaspoons worcestershire sauce
¼ cup balsamic vinegar

(60 mL)

⅓ cup maple syrup

(250 g)

1 teaspoon salt
½ cup water

(120 mL)
Preparation
Preheat your oven to 300⁰. Combine the spices and brown sugar together, then rub all over the ribs. Wrap the ribs tightly in tin foil, then place on a baking sheet. Slowly roast the ribs for 2 - 2 ½ hours.
While the ribs cook, make your maple bbq sauce. In a sauce pot, heat the olive oil over medium low heat. Add the onions and garlic and sweat for 8-10 minutes, or until softened and translucent. Add the ketchup, worcestershire, vinegar, syrup, salt, and water. Bring the sauce up to a gentle boil, then reduce to a low simmer for 35 minutes, or until the sauce has darkened and thickened.
When the ribs are done, remove and unwrap the foil. To finish, grill the ribs on medium heat for 3-4 minutes per side, while brushing on the sauce to slightly caramelize. Serve with additional sauce on the side.
Enjoy!
Meal planning made easy with the Tasty app. Download now to see exclusive curated meal plans.