Snow White Poison Candy Apples
Katie recreates the poison apple from Snow White, but gives it a Halloween twist by drawing a creepy, spooky green face on it. Don't let making candy apples from scratch scare you–they only take a few ingredients and are easier than you think!
October 19, 2020
Total Time
35 minutes
35 min
Prep Time
10 minutes
10 min
Cook Time
20 minutes
20 min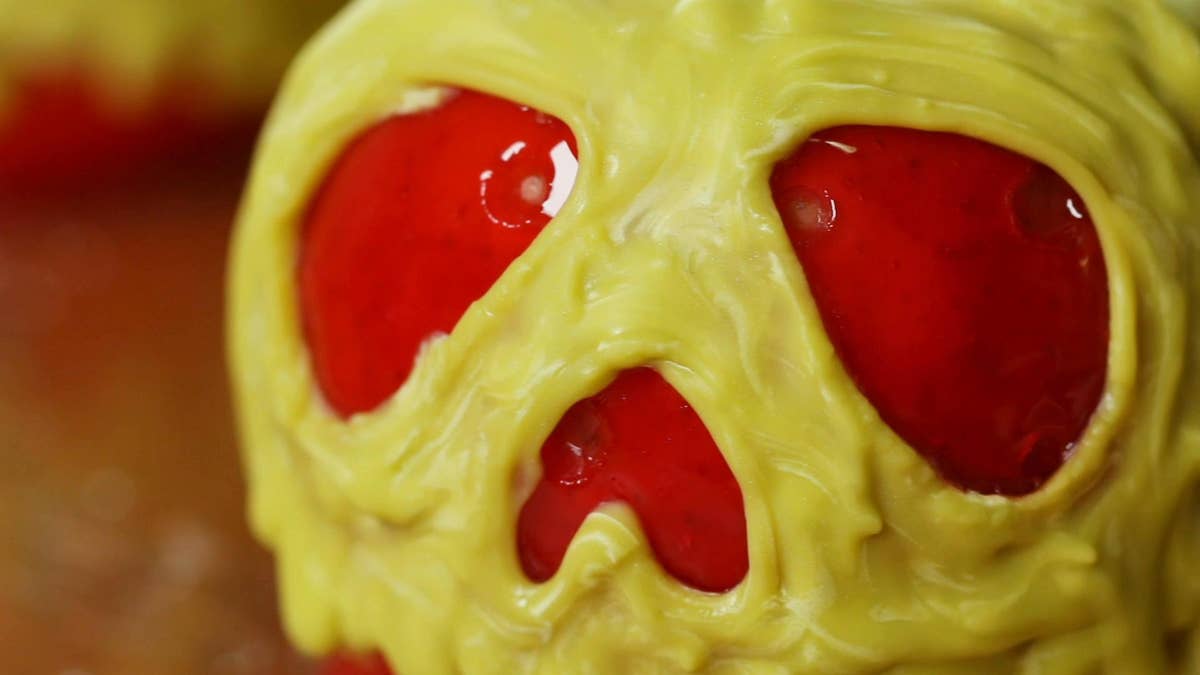 Total Time
35 minutes
35 min
Prep Time
10 minutes
10 min
Cook Time
20 minutes
20 min
Ingredients
for 4 servings
4 honeycrisp apples, stems removed
1 ½ cups sugar

(300 g)

½ cup water

(120 mL)

¼ cup light corn syrup

(85 g)

6 drops red food coloring
8 oz neon green candy melts

(225 g)

1 teaspoon canola oil
Preparation
Insert a lollipop stick into the stem end of each apple.
Line a baking sheet with parchment paper or wax paper.
Add the sugar, water, and corn syrup to a medium saucepan fitted with a candy thermometer. Bring to a boil over medium heat, then cook until the temperature reaches 300°F (150°C), about 5 minutes. Remove the pot from the heat and stir in the red food coloring.
Dip the apples in the syrup to coat entirely, then set on the prepared baking sheet. Let cool until the candy hardens, about 5 minutes.
Add the green candy melts to a medium microwave-safe bowl. Microwave on low power in 20-second intervals, stirring between, until melted. Stir in the canola oil until smooth. Let cool slightly, then transfer to a squeeze bottle. Let cool for 5 minutes more, or until the candy sets quickly when squeezed out of the bottle.
Use the melted candy to draw eyes and a mouth on each apple, then outline the rest of the apple above the very bottom and fill in the space outside the eyes and mouth.
Let set for 10–15 minutes, until completely hardened.
Enjoy!
All your favorite recipes, stored in one place. Download the Tasty app and never lose a recipe again.