Spiciest Ice Cream Sandwich
The ultimate sweet and spicy combination, cinnamon-cayenne syrup is swirled into store-bought vanilla ice cream and sandwiched between 2 dark chocolate cayenne cookies. To finish, the sandwiches are dusted with cinnamon-cayenne sugar for a surprising kick!
March 26, 2020
Total Time
1 hr 30 min
1 hr 30 min
Prep Time
30 minutes
30 min
Cook Time
52 minutes
52 min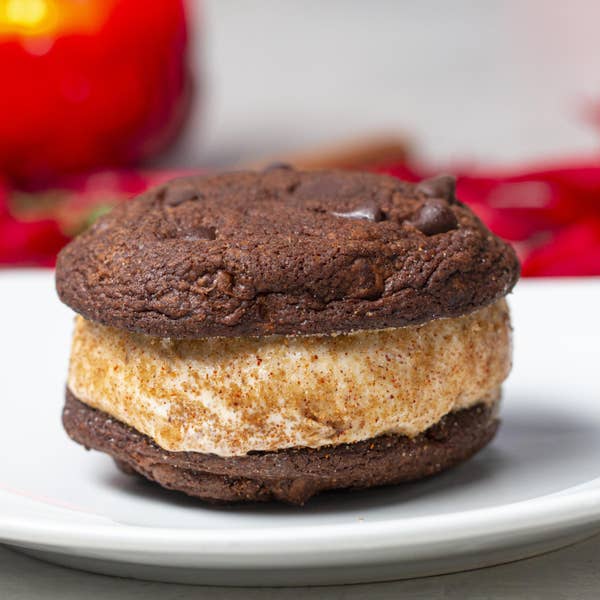 Total Time
1 hr 30 min
1 hr 30 min
Prep Time
30 minutes
30 min
Cook Time
52 minutes
52 min
Ingredients
for 6 servings
Cinnamon-Cayenne Swirl Ice Cream
5 tablespoons heavy cream
½ cup light brown sugar

(110 g)

2 ½ teaspoons ground cinnamon
¾ teaspoon cayenne
½ teaspoon kosher salt
2 tablespoons unsalted butter
4 cups vanilla ice cream

(600 g)

, softened
Dark Chocolate Cayenne Cookies
1 ¼ sticks unsalted butter, room temperature
⅔ cup granulated sugar

(135 g)

¼ cup light brown sugar

(55 g)

1 large egg
2 tablespoons molasses
1 teaspoon vanilla extract
1 ¼ cups all purpose flour

(155 g)

¼ cup dark cocoa powder

(30 g)

1 teaspoon kosher salt
¼ teaspoon baking powder
¼ teaspoon baking soda
½ teaspoon cinnamon
¾ teaspoon cayenne, plus more to taste
¼ teaspoon ground nutmeg
¾ cup semisweet chocolate chip

(130 g)
Cinnamon-Cayenne Sugar
⅓ cup brown sugar

(75 g)

2 teaspoons cinnamon
1 ¼ teaspoons cayenne
Nutrition Info
Calories

807

Fat

35g

Carbs

119g

Fiber

4g

Sugar

90g

Protein

12g
Estimated values based on one serving size.
Preparation
Make the cinnamon-cayenne swirl ice cream: In a medium pot, whisk together the heavy cream and brown sugar over medium heat. Cook, whisking occasionally to prevent burning, until the sugar is melted. Whisk in the cinnamon and cayenne. Cook for another 2–3 minutes, whisking continuously, until thickened and syrupy. Whisk in the salt. Remove the pot from the heat and whisk in the butter until melted. Let cool for 10 minutes.
Transfer the softened ice cream to a wide, shallow dish. Use a spatula to break up the ice cream. Drizzle the cinnamon-cayenne syrup over the ice cream and fold in with the spatula, creating swirls throughout. Transfer to a loaf pan and freeze for at least 1 hour, or overnight.
Make the cookies: In a large bowl, cream the butter, granulated sugar, and brown sugar with an electric hand mixer on medium-high speed for 1–2 minutes, until well incorporated. Add the egg, molasses, and vanilla. Beat on high speed for 2–3 minutes, until light brown and fluffy.
Sift in the flour, cocoa powder, salt, baking powder, baking soda, cinnamon, cayenne, and nutmeg. Mix on low speed until the flour is just incorporated. Increase the speed to medium-high and continue mixing for about 1 minute, until the flour is fully incorporated and there are no dry spots, scraping down the sides of the bowl as needed. Add the chocolate chips and fold with a rubber spatula until evenly distributed.
Cover the bowl with plastic wrap and transfer to the refrigerator for 30–60 minutes to chill.
While the cookies chill, make the cinnamon-cayenne sugar: In a medium bowl, mix together the brown sugar, cinnamon, and cayenne with a fork.
Preheat the oven to 350˚F (180˚C). Line 2 baking sheets with parchment paper.
Using a 2-ounce scoop, portion out 12 cookies. Roll each portion of dough into a ball, then flatten between your palms and smooth the edges to make wide, flat discs. Arrange the cookies on the prepared baking sheets, 6 per pan.
Bake the cookies for 12–15 minutes, until cooked through to the center but not crisp or beginning to harden.
Remove from the oven and let cool on the pans for 10 minutes before transferring to a wire rack to cool completely. Once cooled completely, transfer the cookies to the freezer for 10 minutes to harden.
While the cookies are in the freezer, remove the ice cream from the freezer to thaw slightly.
Remove the cookies from the freezer and transfer to a work space. Using a 4-ounce scoop, scoop the ice cream onto the underside of a cookie. Top with a second cookie and press down lightly to adhere. Transfer to a clean baking sheet and repeat with the remaining cookies and ice cream.
Freeze the ice cream sandwiches for at least 30 minutes to set.
Remove the ice cream sandwiches from the freezer and sprinkle the exposed ice cream with the cinnamon-cayenne sugar.
Serve immediately.
Enjoy!