Spicy Lamb Naan Bowl Curry
This fiery bowl of curry is not for the faint of heart. Tender lamb is cooked to perfection with a blend of bold spices, then served in a fluffy naan bread bowl. Topped with cooling yogurt and fresh cilantro, this bowl is a flavor explosion that will leave your taste buds begging for more.
May 04, 2023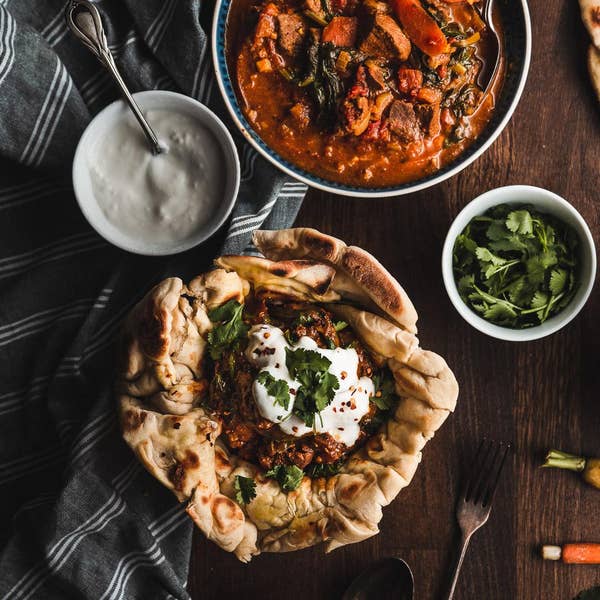 Ingredients
for 4 servings
Lamb Curry
2 tablespoons oil
1 brown onion, chopped
2 garlics, chopped
2 tablespoons ginger, chopped
2 tablespoons curry powder
½ teaspoon garlic granules
1 teaspoon cumin
½ teaspoon ground tumeric
¼ teaspoon red chili flakes
¼ teaspoon himalayan sea salt
¼ teaspoon black pepper
1 lb lamb shoulder

(400 g)

, cut into 1 inch (2.5 cm)
2 cups carrot

(200 g)

, sliced diagonally
1.5 lb canned diced tomato

(1400 g)

1 cup water

(200 mL)

2 cups spinach

(100 g)

½ cup coconut milk

(120 mL)
Naan Bowls
½ cup water

(120 mL)

½ tablespoon active dry yeast
2 teaspoons honey
3 ¾ cups plain flour

(400 g)

, plus more for dusting
½ teaspoon baking powder
½ teaspoon baking soda
¼ teaspoon salt
¾ cup plain yogurt

(200 g)

¼ cup melted butter

(50 g)

, divided
¼ teaspoon ground tumeric
¼ teaspoon garlic granules
Garnish
⅓ cup plain yogurt

(80 g)

coriander, to garnish
Preparation
To make the naan dough, combine warm water, yeast, and honey. Set aside to bloom for 10 minutes.
Combine plain flour, baking powder, baking soda, and salt in a bowl.
To the yeast mixture, add plain yogurt, and 25g melted butter, stir until smooth. Pour into the dry ingredients.
Stir to combine, then dump onto a floured surface, and knead until smooth (about 2-3 minutes).
Place dough in a clean large bowl, greased with oil, and cover with a clean kitchen towel. Let rise at room temperature until doubled in size, about 2 hours.
Make the curry: heat oil in a large frying pan over medium heat. Add onion, garlic and ginger, cooking for 3 minutes, or until softened.
Add curry powder, garlic granules, cumin, turmeric, red chilli flakes, sea salt, and black pepper. Stir to combine.
Add the diced lamb, cook, stirring occasionally for 4-5 minutes, or until the lamb is browned.
Add sliced carrots, tinned tomatoes, and water. Reduce heat, and cover for 40 minutes.
Tip in spinach and coconut milk, stirring to combine.
Once the naan dough has risen, dump dough onto a floured surface. Divide into 4 equal portions. Roll each portion into a ¼ inch thickness (about 25cm circle).
Heat a large cast-iron skillet over medium high heat. Cook naan for 2-3 minutes, or until the dough puffs up. Flip, and cook for an additional minute. Transfer naan to a medium bowl, and place another bowl on top. Repeat with remaining dough, stacking bowls between each round. Let the naan cool in the bowls to retain their shape.
Mix remaining melted butter with turmeric and garlic granules, brush each naan bowl with melted butter.
Fill naan bowls with lamb curry, and top with fresh coriander and yogurt.
Enjoy!
Your favorite recipes are just a click away. Download the Tasty app to save and organize your favorites.