Spicy Szechuan Chicken
This spicy Szechuan chicken is a flavorful and delicious dish that's perfect for a quick weeknight dinner.
May 14, 2023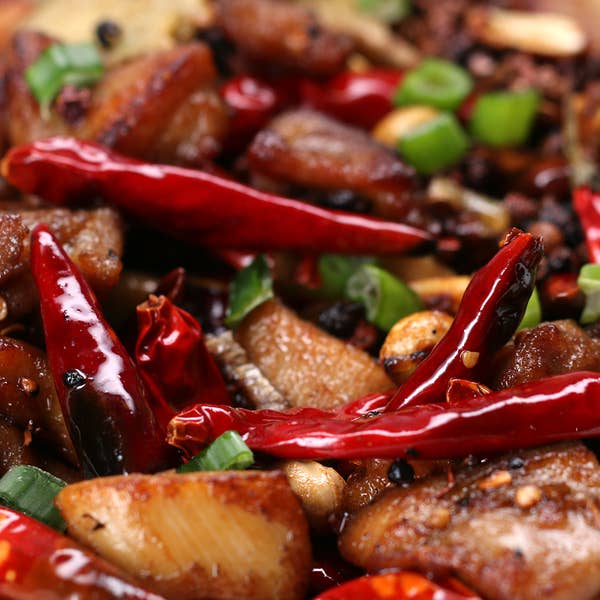 Ingredients
for 2 servings
Marinade Ingredients
3 teaspoons corn starch
1 teaspoon salt
1 tablespoon rice wine
½ teaspoon white pepper
1 tablespoon soy sauce
1 stalk scallion, shredded
2 slices ginger
4 chicken thighs, chopped into bite-sized pieces
Other Ingredients
vegetable oil, as needed for frying
2 tablespoons szechuan peppercorn
5 red chilis, chopped
50 dried red chilis, whole
4 slices ginger
1 stalk scallion, chopped
⅓ cup peanuts

(40 g)

½ teaspoon sugar
½ tablespoon rice wine
1 tablespoon sesame oil
scallion, chopped for garnish
Preparation
Combine marinade ingredients in a bowl, add the chopped chicken. Marinate for 10 minutes.
In about 1 ½ inch (4 cm) of oil, fry the chicken until browned and crispy. Remove and set aside.
Heat oil in a wok or a large pan. Add the Szechuan peppercorn and dried red chilies. Fry until fragrant.
Add the rest of the dried red chilies, ginger, scallion, and peanuts. Fry for a minute.
Add the fried chicken pieces, sugar, rice wine and sesame oil. Toss to coat.
Garnish with chopped scallions.
Nutrition Calories: 2870 Fat: 303 grams Carbs: 29 grams Fiber: 11 grams Sugars: 9 grams Protein: 26 grams
Enjoy!
Cook smarter, not harder. Use our AI chef Botatouille on the Tasty app. Download now.