94% would make again
Spinach Pasta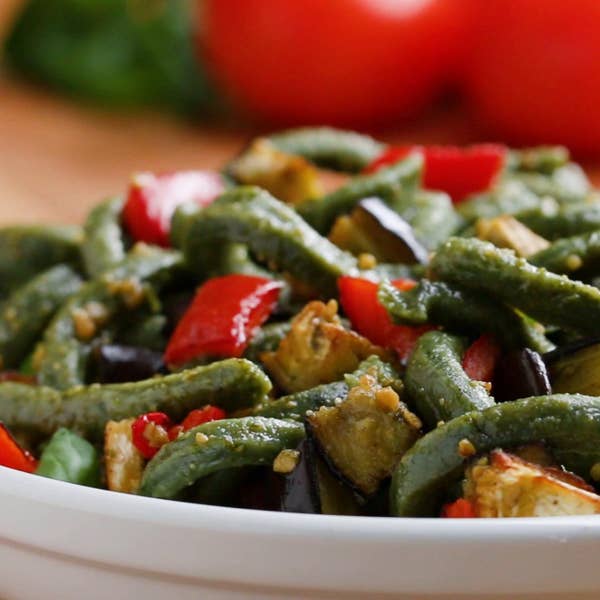 Inspired by cilantroandcitronella.com
Ingredients
for 2 servings
1 tablespoon olive oil
5 oz spinach

(140 g)

2 cups all-purpose flour

(250 g)

1 tablespoon salt, plus ¼ teaspoon, divided
2 tablespoons water
vegetable, roasted, for serving
pesto, for serving
fresh basil, for serving
Nutrition Info
Estimated values based on one serving size.
Preparation
Bring a large pot of water to a boil.
In a large saucepan, heat the olive oil over medium heat. Once the oil begins to shimmer, add the spinach and cook for 5 minutes, or until wilted.
Add the spinach to a food processor and process until finely chopped.
While processing the spinach, spoon the flour in a little bit at a time until a crumbly dough forms.
While continuing to process, add ¼ teaspoon of salt. Then, add 1 tablespoon of water at a time until dough comes together (the amount of water necessary will vary depending on how wet the spinach is).
Remove the dough from the food processor and knead on a floured surface to form into a ball.
With a rolling pin, roll dough out into an oval, about 18 inches (46 cm) long by 12 inches (30 cm) wide, and ¼-inch (6 mm) thick.
With a knife or pizza cutter, cut the dough into even strips about ½ inch (1 cm) wide.
Roll the strips into thick noodles.
Once the water is boiling, add 1 tablespoon of salt and drop in the pasta.
Cook the pasta for 3-5 minutes, or until the noodles float to the top. Drain.
Toss with roasted vegetables and pesto and top with basil.
Enjoy!