Spring Vegetable Quiche
Ring in spring with this colorful and fresh vegetable quiche. Smooth and tangy goat cheese; a flaky, buttery crust; and a rich egg and asparagus filling makes for a perfect addition to your brunch table.
April 25, 2021
Total Time
2 hr 5 min
2 hr 5 min
Cook Time
45 minutes
45 min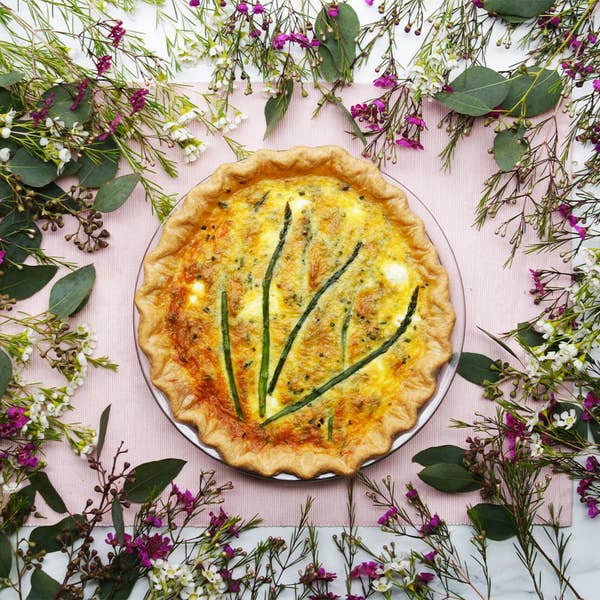 Total Time
2 hr 5 min
2 hr 5 min
Cook Time
45 minutes
45 min
Ingredients
for 6 servings
Crust
1 ¼ cups all-purpose flour

(155 g)

, plus more for dusting
½ teaspoon kosher salt
1 stick unsalted butter, cubed and chilled
3 tablespoons ice water
Filling
1 teaspoon kosher salt, plus more for blanching
1 asparagu, woody ends trimmed
2 large egg yolks
3 large eggs
1 ½ cups heavy cream

(360 mL)

¼ teaspoon freshly ground black pepper
1 pinch McCormick® Ground Nutmeg
3 tablespoons thinly sliced fresh chives, divided
4 oz goat cheese

(110 g)

, divided
Special Equipment
pie weight, or dried beans
glass pie plate, 8 in (20 cm)
Nutrition Info
Calories

348

Fat

25g

Carbs

20g

Fiber

13g

Sugar

1g

Protein

14g
Estimated values based on one serving size.
Preparation
Add the flour and salt to a food processor. Pulse to combine. Add the butter and pulse 6–8 times until broken down into pea-sized pieces. Add the water and pulse 8–10 times, until the dough comes together. Turn the dough out onto a clean surface and shape into a disc. Tightly wrap in plastic wrap and refrigerate for 30–60 minutes
Preheat the oven to 375°F (190°C).
On a lightly floured surface, roll the dough out to a circle about ⅛ inch thick. Roll the dough onto the rolling pin and gently transfer to an 8-inch pie dish. Press the dough flush against the bottom and sides of the dish. Trim any excess dough around the edges. Fold the edges of dough back underneath itself, then crimp using the index finger knuckle on one hand and the thumb and index finger on the other hand.
Line the crust with parchment paper and fill with pie weights or dried beans. Bake for 10–15 minutes, until the crust is beginning to brown around the edges. Remove the crust from the oven and carefully lift out the parchment paper and baking beans.
Prick the bottom of the crust with a fork and return to the oven for another 3–5 minutes, until the bottom is beginning to brown. Remove from the oven and set on a rack to cool while you make the filling.
Fill a large, high-walled skillet with water and bring to a simmer over medium-high heat. Once simmering, season the water generously with salt. Prepare an ice bath in a large bowl and set nearby.
Blanch the asparagus in the simmering water for 30–60 seconds, until bright green and tender. Transfer to the ice bath to cool for 1–2 minutes, then drain and let dry on a paper towel or kitchen towel-lined baking sheet.
Reserve 8–10 spears of asparagus. Cut the rest crosswise into 1-inch pieces.
In a large bowl, whisk together the egg yolks, eggs, heavy cream, black pepper, salt, and nutmeg. Add the asparagus pieces and 2 tablespoons of chives and whisk to incorporate.
Spread 3 ounces of the goat cheese across the bottom of the crust.
Pour the filling into the crust. Arrange the reserved asparagus spears on top. Sprinkle with the remaining tablespoon of chives and dot with the remaining ounce of goat cheese.
Bake the quiche for 28–35 minutes, until the center is set, but still jiggles slightly when gently shaken.
Transfer the quiche to a wire rack to cool for 30 minutes before slicing and serving.
Enjoy!
Hate losing that perfect recipe? Save and organize recipes easily on the Tasty app. Download now.