Squid Ink Calamari
Take dinner time deep down under the sea with these ink-hued dishes. Start with crispy fried calamari dredged in an activated charcoal batter and served with a garlicky squid ink aioli. Then for the main course, it's homemade squid ink fettuccine in a white wine sauce with plenty of mussels. Finish with a no-bake activated charcoal cheesecake studded with black sesame seeds. The food may be dark, but the flavors are anything but!
March 11, 2020
Total Time
55 minutes
55 min
Prep Time
20 minutes
20 min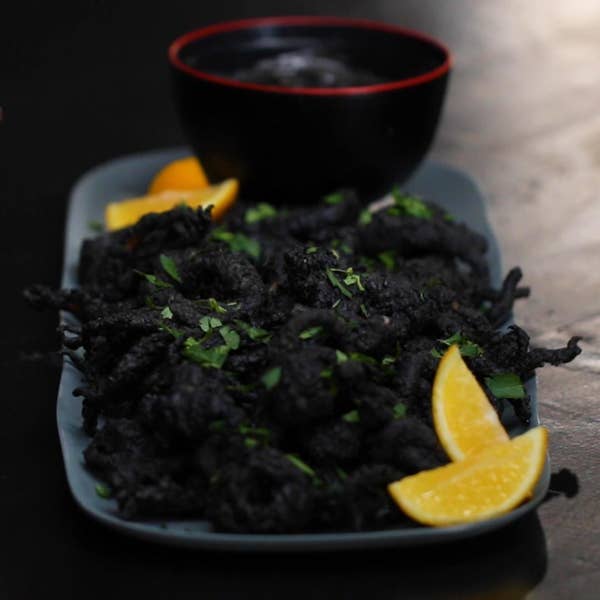 Total Time
55 minutes
55 min
Prep Time
20 minutes
20 min
Ingredients
for 4 servings
Calamari
¾ cup calamari rings and tentacles

(340 g)

1 lemon, juiced
¾ cup all purpose flour

(90 g)

½ cup corn starch

(60 g)

1 teaspoon kosher salt
½ teaspoon black pepper
2 teaspoons food grade activated charcoal
¼ cup black sesame seeds

(35 g)

½ teaspoon smoked paprika
1 cup buttermilk

(125 mL)

1 teaspoon squid ink
6 cups vegetable oil

(1.4 kg)

, for frying
1 tablespoon fresh parsley, for garnish
4 lemon wedges, for serving
Squid Ink Aioli
1 cup mayonnaise

(245 g)

1 clove garlic, grated
1 teaspoon white wine vinegar
½ teaspoon lemon juice
1 ½ teaspoons squid ink
¼ teaspoon kosher salt
black sesame seed, for topping
Preparation
Make the calamari: In a large bowl, toss the calamari with the lemon juice. Let sit for 30 minutes to help tenderize the calamari.
While the calamari tenderizes, make the aioli: In a medium bowl, stir together the mayonnaise, garlic, white wine vinegar, lemon juice, squid ink, and salt until smooth. Transfer to a serving bowl and chill until ready to serve.
In a large bowl, whisk together the flour, cornstarch, salt, pepper, activated charcoal, black sesame seeds, and smoked paprika.
In a medium bowl, whisk together the buttermilk and squid ink until fully combined.
Heat the vegetable oil in a large pot over medium-high heat until it reaches 375°F (190°C).
Working in batches, transfer the calamari to the flour mixture and toss to coat. Transfer to the buttermilk mixture, toss to coat, then return to the flour mixture and toss until fully coated.
Immediately transfer the calamari to the hot oil and fry for 2–3 minutes, until crispy. Using a slotted spoon, transfer to a paper towel-lined plate to drain. Repeat with the remaining calamari.
Transfer the calamari to a serving platter. Sprinkle with the parsley and garnish with lemon wedges. Top the aioli with more black sesame seeds and serve alongside.
Enjoy!
Cook smarter, not harder. Use our AI chef Botatouille on the Tasty app. Download now.